Top Stories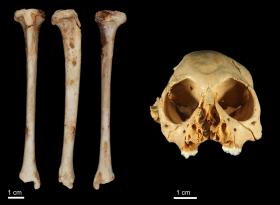 An international team of scientists have dated a species of fossil monkey found across the Caribbean to just over 1 million years old.
The discovery was made after the researchers recovered a fossil tibia (shin bone) belonging to the species of extinct monkey Antillothrix bernensis from an underwater cave in Altagracia Province, Dominican Republic. The fossil was embedded in a limestone rock that was dated using the Uranium-series technique.
In a paper published this week in the well renowned international journal, the Journal of Human Evolution, the team use three-dimensional geometric morphometrics to confirm that the fossil tibia does indeed belong to Antillothrix bernensis, a primate that we now know existed on Hispaniola relatively unchanged for over a million years. This monkey, roughly the size of a small cat, was tree-dwelling and lived largely on a diet of fruit and leaves.