Top Stories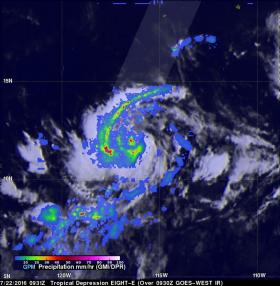 NASA spies major Hurricane Georgette
July 25, 2016 04:15 PM - NASA/GODDARD Space Flight Center via EurekAlert!
Hurricane Georgette is a major hurricane in the Eastern Pacific Ocean. NASA-NOAA's Suomi NPP satellite provided a visible image of the powerful storm that showed a clear eye.
On July 24, at 21:20 UTC (5:20 p.m. EDT) the Visible Infrared Imaging Radiometer Suite (VIIRS) instrument aboard NASA-NOAA's Suomi NPP satellite captured an image of Hurricane Georgette in the eastern Pacific Ocean that showed an open eye with strong bands of thunderstorms circling the center.
Shortly after Suomi NPP captured the visible image, Georgette's maximum sustained winds had increased to near 130 mph (215 kph) and Georgette became a category 4 hurricane on the Saffir-Simpson Hurricane Wind Scale.