Fairbank Farms Recalls Beef Patties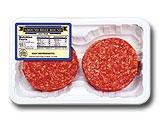 ASHVILLE, N.Y. — Fairbank Farms, a national company that sells ground beef, announced a recall Wednesday of 85 percent lean ground beef patties sold in Shaw's Supermarkets.
The ground beef patties, sold fresh under the Shaw's label, could have been purchased by consumers in New England between about 7 a.m. and 11 a.m. on Wednesday, Sept. 5.
The product was removed after concerns about possible contamination with E.coli 0157:H7 bacteria.
Customers who may have purchased the beef patties should check the package. Each of the 1.33-pound trays is marked with the establishment number "Est. 492" inside the USDA mark of inspections, and the nutritional information label bears a time stamp between "17:05" and "17:25." The packages also have a date code of "243."
A majority of the product was isolated in the company's warehouse. Some affected product was shipped to stores in Connecticut, Maine, Massachusetts, New Hampshire, Rhode Island and Vermont. The affected product has been pulled from store shelves.
Customers who have purchased the patties may return them to their local Shaw's store for a full refund or exchange.
According to the Centers for Disease Control and Prevention, the E. coli strain 0157:H7 infects about 73,000 Americans a year and kills 61.
Symptoms of E. coli include stomach cramps that may be severe and diarrhea that may turn bloody within one to three days. E. coli can sometimes lead to complications including kidney failure.
Symptoms usually show up three to four days after a person eats contaminated food, although in some cases it can be as long as eight days. Officials said anyone having symptoms should immediately contact their health care provider.
___
On the Net:
Visit the Partnership for Food Safety Education Web site: http://www.FightBAC.org.
Customers can contact Fairbank Farms' toll free hot line: 1-800-724-1136.