Tens of thousands trapped in Mexico floods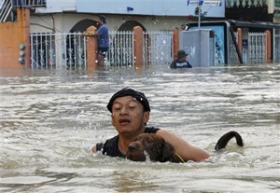 VILLAHERMOSA, Mexico (Reuters) - Tens of thousands of Mexicans were trapped on rooftops and others clung to lampposts on Thursday after heavy rains flooded nearly the entire southern state of Tabasco.
At least 500,000 people were made homeless and one person was killed in the worst flooding the swampy state has seen in more than 50 years.
President Felipe Calderon said it was one of the worst natural disasters in Mexico's history.
Television images showed rescue workers hauling people out turbulent, brown waters that rose as high as the roofs of houses. Children floated down a street in a plastic tub.
"It is getting very serious," Calderon said in a televised address.
Tabasco Gov. Andres Granier said more than 1 million people -- about half of the state's population -- were "in the water," and scores of people called local radio programs pleading to be rescued.
Floodwaters turned many towns and swaths of the state capital, Villahermosa, into murky lakes.
Navy sailors and emergency workers steered boats and skiffs up and down streets, fishing thousands from the waters and dropping them off in dance halls, parking garages and other improvised shelters.
"God help us -- nothing like this has ever happened to us. I had to jump from a roof so they would be able to get to me," said Francisca Almeida, who was gripping a rope tied around a lamppost to keep from being swept away.
Many of the state's regular shelters were evacuated after floodwaters overtook them.
Granier said thousands of soldiers and volunteers were working to strengthen a raised four-lane highway that serves as a levy around the capital. If it breaks, he said, 95 percent of the city would be under 7 feet of water.
"Hopefully we can last until the morning," he told a radio station.
Floodwaters half-covered several giant carved stone heads built by the Olmecs, one of the first great civilizations in the Americas, at the state's La Venta archeological site. Some of the heads are more than 9 feet tall.
Officials have said Tabasco lost all of its banana and other crops, and that four-fifths of the state was under water.
The floods were triggered by storms that have wreaked havoc in the oil industry along Mexico's Gulf coast.
Twenty-one people were killed last week when storms caused an oil platform to collide with another rig in the Gulf of Mexico, forcing dozens of workers to leap into the water.
(Additional reporting by Jason Lange in Mexico City)
© Reuters2007All rights reserved