Biofuel impact on farm prices overplayed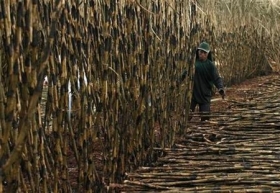 By Sybille de La Hamaide
PARIS (Reuters) - The recent price rally in farm commodities such as grains, oilseeds and sugar beet can be attributed partly to higher biofuel demand but their share of the blame has been exaggerated, a top official of the Organisation for Economic Cooperation and Development (OECD).
Loek Boonekamp, a division head in the Agro-food Trade and Markets Division at the Paris-based OECD, said the surge in farm product prices -- with cereals more than doubling last year -- would have happened even without the rise in biofuel production.
"Closing your eyes and blaming the current high prices to biofuels is just too simplistic," he told the Reuters Global Agriculture and Biofuel Summit.
Boonekamp said a sharp drop in supply mainly due to adverse weather conditions in top producing countries such as Australia, tight stocks worldwide and higher demand for food in developing countries were playing the biggest role in the rally.
"We think that there are enough elements in current commodity markets that resulted in very high prices for cereals and oilseeds and even they would have happened without this hike in biofuel production," he said.
He stressed that the supply shortfall in the main grain producing countries -- the United States, Canada, Australia and the European Union -- had been of 60 million tons, four times as large as the increase in demand (for biofuels).
Biofuels have become a major issue on global commodities markets over the last years as they are increasingly put forward as politically, environmentally and economically friendly alternatives to fossil fuels.
HIGH PRICES IN NEXT DECADE
Made of grain, oilseeds and sugar, the so-called "green" fuels are expected to lower dependence on fossil fuels, cut carbon dioxide emissions -- one of the main causes for climate change -- and raise farm revenues.
But many observers have pointed to their fast development to explain the rally in farm prices, notably for wheat, corn and soybeans whose prices surged in the past year, leading to higher food prices and raising inflation worries.
An OECD study released last year also stressed that the cure may be worse than the disease, saying doubts remained whether biofuels could still be considered "green" when all elements, including the energy and pesticides used to produce feedstock, are included in the balance.
Boonekamp said prices for agricultural commodities on international markets would remain high in the next decade, buoyed by biofuels but also higher food demand and high oil prices.
For grains, oilseeds and sugar beets alone, Boonekamp pegged the average rise in prices at between 10 to 40 percent compared to the previous decade's average.
In July last year a joint study by the OECD and the United Nations Food and Agriculture Organisation (FAO) had predicted a rise of 20 to 50 percent in the next 10 years but Boonekamp said the projection was for all agricultural commodities.
The OECD expects the global biofuel production to reach 125 billion liters of ethanol and biodiesel by 2016 compared to under 50 billion liters currently, a rise of around 160 percent.
"That is of a major impact for agricultural markets (...) because if you want to produce a large amount of biofuels it would require a large share of the crop and an enormous amount of land," he said.
If indeed there was a 160 percent rise in biofuel output by 2016, it would take up about one third of cereal land in the United States and in Canada and about half of the cereal, oilseeds and sugar beets land in the European Union, he said.
"That is translated into a fundamental new demand for agricultural commodities, a demand that did not exist five years ago, even three years ago. We expect that sort of demand to have a major impact on agriculture commodities prices," he said.
LOWER PROFITABILITY
Boonekamp stressed that this rise in feedstock prices could have a direct impact on the profitability of the sector because their share represented between 50 and 90 percent of biofuel production costs depending on the region and the feed used.
"So when these feedstock prices increase you have a very large share of your total costs part of the production that is increasing," he said.
For U.S. ethanol, which is mainly made from corn (maize), he said returns on operation costs were at 40 cents per liter during the 2005/2006 season, 25 cents in 2006/2007 and just one cent in December 2007 due to higher prices.
Since December, U.S. corn prices continued to surge, breaking 11-year records this month.
"The increase in wheat and corn prices have drastically reduced the profitability of the (biofuel) industry," he said, adding that oil prices also impact profitability as fossil fuel was widely used at all stage of biofuels production.
"The only ethanol production where the total net costs, taking account of the sale of by-products etc, is below the current oil price is in Brazil," Boonekamp said.
"None of the other countries even with the higher oil prices have a production situation where ethanol and biodiesel is competitive on a cost basis with fossil fuels."
(For summit blog: http://summitnotebook.reuters.com/)
(Additional reporting by Tamora Vidaillet; editing by Michael Roddy)