Largest U.S. farm group rallies against climate bill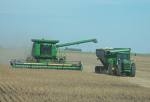 The largest U.S. farm group will oppose aggressively "misguided" climate legislation pending in Congress and fight animal rights activists, said American Farm Bureau Federation president Bob Stallman on Sunday.

In a speech opening the four-day AFBF convention, Stallman said American farmers and ranchers "must aggressively respond to extremists" and "misguided, activist-driven regulation ... The days of their elitist power grabs are over."
Climate legislation passed by the U.S. House of Representatives aims for a 17 percent reduction in greenhouse gas emissions by 2020 compared to 2005 levels. Senators are expected to draft a similar bill this year. Both envision a cap-and-trade system to curb emissions from factories and power plants and to allow the purchase of offsets.
Vast amounts of farmland could become carbon-capturing woodlands under cap-and-trade, "eliminating about 130,000 farms and ranches," said Stallman. One federal analysis says 8 percent of crop and pasture land could be turned into trees by 2050 because trees would be more profitable than crops.
Article continues: http://www.reuters.com/article/idUSTRE6091WT20100110