Missouri River flooding persisting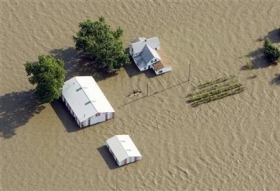 The swollen Missouri River was swamping more farmland in Missouri on Wednesday as federal officials began to prepare for a gradual reduction in water releases from a key dam starting later in July.
Residents from Montana through Missouri have built flood barriers and evacuated homes for more than a thousand miles over the last two months as melting snow and heavy rains overwhelmed six reservoirs on the Upper Missouri River.
Federal officials have released water from the dams at double previous record rates, straining levees through the North and South Dakota capitals down along the borders of Nebraska, Iowa and Kansas and across Missouri.
Some of the latest breaches were in Carroll County, Missouri, about 60 miles east of Kansas City where some barriers have been overtopped by floodwaters, threatening roads and smaller communities.
Earlier on Wednesday, more than 12 square miles of farmland remained under water in Carroll County, due to a primary levee breach along the Missouri River on Monday, said Tyler Beuchwakk, a firefighter in Carrollton, the county seat.
Officials were concerned flooding could widen considerably but it seemed to be under control Wednesday morning and only a handful of homes had been impacted by the flooding, he said.
"We have a handle on it, knock on wood," Beuchwakk said.
U.S. Highway 65 in the area was down to one lane due to high water. Federal officials and the Missouri transportation department had noted the road typically floods for broad stretches when one of the area levees is breached.
The U.S. Army Corps of Engineers has begun to reduce water releases gradually from five of its six dams in Montana through South Dakota. It plans to begin reducing water releases from the sixth dam at Gavins Point on July 30.
Photo shows an aerial view of a farm near Rock Port, Missouri submerged in Missouri River flood waters June 24, 2011.  Credit: Reuters/Lane Hickenbottom
Article continues: http://www.reuters.com/article/2011/07/13/us-plains-flooding-idUSTRE76C70P20110713