Indigenous agroforestry 'may improve livelihoods'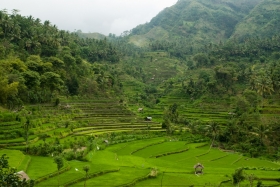 Smallholder farmers should use their indigenous knowledge of trees to boost incomes and drive social development, according to a new book by Roger Leakey, vice chairman of the International Tree Foundation and renowned tree biologist.
Leakey said his new book Living with the Trees of Life: Towards the Transformation of Tropical Agriculture is the world's first research-based guide for agroforestry — an agricultural practice that uses the interactive benefits of combining trees and shrubs with crops and/or livestock.
Leakey was speaking at the publication's UK launch, at the School of Oriental and African Studies, London, this month (17 September).
He has developed a three-step farming guide, which integrates agroforestry practices and technological interventions into sustainable farming. It aims to enhance trade and income, and to generate funds for reinvestment in education and local infrastructure.
The first step is to make soil more nitrogen-rich — and thus fertile — by planting leguminous trees and shrubs.
The second step is to encourage local farmers to select native crops for production. Using their indigenous knowledge, farmers select the most appropriate crops, which Leakey said are usually "traditional fruits, nuts and medicinal plants [which] they once gathered from the forest".
The third step involves transitioning from the local to the global marketplace, and engaging with big businesses.
Article continues at ENN affiliate, Science and Development Network
Tropical Agriculture image via Shutterstock