One in eight people suffer from malnutrition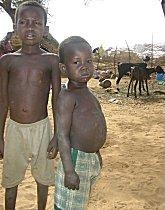 In a world where technology has advanced to a point where I can instantly have a face-to-face conversation via online video with a friend in Tokyo, nearly 870 million people, or one in eight, still suffer from malnutrition, according to a new UN report. While worldwide hunger declined from 1990 to 2007, progress was slowed by the global economic crisis. Over the last few years, numerous and record-breaking extreme weather events have also taken tolls on food production. Currently, food prices hover just below crisis levels.
"We find it entirely unacceptable that more than 100 million children under five are underweight," the heads of the Food and Agriculture Organization (FAO), International Fund for Agricultural Development (IFAD), and the World Food Programme (WFP) write in a forward to the report, State of Food Insecurity in the World 2012, adding that such children "are unable to realize their full human and socio-economic potential, and that childhood malnutrition is a cause of death for more than 2.5 million children every year."

From the early 1990s to today, the number of those going to bed hungry has fallen by around 132 million, dropping from 18.6 percent to 12.5 percent of the total world population. While this is laudable progress, regions still make a big difference. In fact, hunger has actually risen in Africa: 64 million people have been added to the number of hungry on the continent since the early 1990s. Population growth rates are also highest in Africa.

Article continues at Malnutrition,

Famine image via Wikipedia.