Meat-Free Product Sales Are Rising as Meat Consumption Falls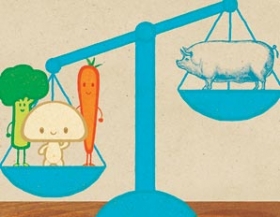 With the annual Food Day approaching, it's hard to overlook the fact that people seem to be thinking more about where their food comes from every day. Food Day, which falls on October 24, is a nationwide celebration and movement for healthy, affordable and sustainable food, and a day of awareness about these issues couldn't be more important.
What we eat has deep implications, and in the last several years, socially responsible businesses have started taking an active role in addressing those implications. Many are creating policies to improve the welfare of animals in their supply chains, reducing greenhouse gas emissions or purchasing only from suppliers that pay workers fair wages. And there's one area that's gaining traction by the day: meat reduction. Some savvy businesses have noticed a decreasing demand for meat and are creating new products to meet every meat-free need. Others are using the popular Meatless Monday program to improve employee wellness or to encourage customers to eat healthier by cutting out meat one day a week.
Ezra Klein of the Washington Post said earlier this year, "Meat eating in the United States is going out of style." Klein was referring to USDA statistics that projected U.S. consumers would eat 12 percent less meat in 2012, than just five years ago.
What's the driver for this decline? USA Today says many Americans are reducing meat consumption out of concern for their health and the environment as well as rising meat prices. A Harvard study that came out this year found that replacing red meat with high-protein plant sources was associated with living a significantly longer life. And according to the United Nations, meat production is one of the top contributors to climate change, due to its high carbon dioxide and methane emissions and vast use of water, land and fossil fuels. People also want to prevent animal cruelty. Factory farms, where the vast majority of our meat, eggs and dairy come from, have a notorious reputation for inhumanely confining millions of animals in crates and cages where they can barely move.
Article continues at ENN affiliate, Triple Pundit
Image credit: MeatlessMonday.com