NMSU professor sets his sights on determining best dryland cropping system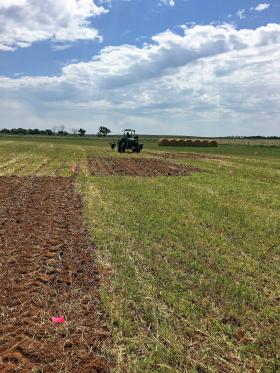 Murali Darapuneni recalls stories about how difficult it was for his ancestors during times of drought conditions and famine in India in the early 1900s.
"They had limited resources and research at that time," he said. "My grandparents told me about those stories and how difficult it was to feed the people."
Darapuneni is now an assistant professor of semi-arid cropping systems in the New Mexico State University College of Agricultural, Consumer and Environmental Sciences. Part of the Department of Plant and Environmental Sciences, he is researching efficient dryland cropping systems at the NMSU Agricultural Science Center at Tucumcari.
He studied at Acharya N. G. Ranga Agricultural University in India, where he earned a bachelor's degree in horticulture. He has a master's degree in plant, soil and environmental science from West Texas A&M University and a doctorate in agronomy from Texas A&M University.
Continue reading at New Mexico State University
Image: Tillage systems research is ongoing at the New Mexico State University Agricultural Science Center at Tucumcari. Murali Darapuneni, an assistant professor of semi-arid cropping systems in the NMSU Department of Plant and Environmental Sciences, is researching dryland cropping systems at the Tucumcari center. (NMSU photo by Murali Darapuneni)