18 Years in the Making, New Fruit Varieties Coming to Market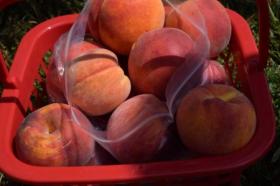 Four new tender fruit varieties are coming soon to Canada.
After 18 years of research and testing, the University of Guelph is poised to release two varieties of yellow Japanese plums and two varieties of early peaches.
"You've got to be patient in this game," said U of G plant agriculture professor Jayasankar Subramanian, who is among Canada's leading tender fruit breeders — and currently the only peach breeder in the country.
But an 18-year lab-to-market timeline, he added, is on the quick side.
Continue reading at University of Guelph.
Photo via University of Guelph.