Antibiotic-Brined Chicken and Other Bad Ideas from US Farming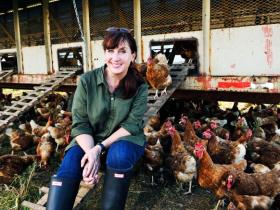 These days, the only thing more American than apple pie is eating an animal raised on antibiotics. Eighty percent of antibiotics sold in the US go not to human patients, but to the nation's plate-bound pigs, cows, turkeys, and chickens. As these wonder drugs became a mainstay of modern agriculture, factory farms began churning out another, far less welcome commodity—antibiotic resistant bacteria. These deadly new microbial threats are expected to claim the lives of 10 million people by 2050. How did this happen? And where does it end?
Those are the kinds of questions that superbug sleuth Maryn McKenna asks in her newest book Big Chicken, due out September 12th. Through stories told in carefully researched detail, the veteran science journalist (and one-time WIRED bacteria beat blogger) tracks down the origins of antibiotics in America's food system, and follows their rapid expansion throughout the agricultural industry with devastating downstream consequences. It is at once a classic tale of runaway science gone wrong and the singular history of America's favorite food. Though, after reading it, you may never want to eat chicken again.
Read more at Wired
Image: Maryn McKenna's new book, Big Chicken, chronicles the rise of antimicrobial resistance in America, starting on poultry farms. (Credit: David Tulis)