Crowning the "King of the Crops": Sequencing the White Guinea Yam Genome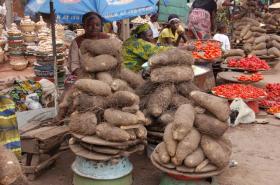 An international collaboration involving the Earlham Institute, Norwich, UK, and the Iwate Biotechnology Research Centre, Japan, has for the first time provided a genome sequence for the white Guinea yam, a staple crop with huge economic and cultural significance on the African continent and a lifeline for millions of people.
Yams are a staple part of the Nigerian diet, with Nigeria accounting for around 70% of world yam production, but at current rates of consumption demand is beginning to outstrip supply of this economically important crop with huge cultural significance.
Deciphering the yam genome is of vital importance because, unlike other staple crops such as wheat, maize and rice, the crop is relatively undomesticated. Domesticated crops have advantages compared to their wild relatives when it comes to farming them, including easier usability and higher yields. Understanding the genomics of this crucial plant will help farmers increase yields and sustainability of yams.
The novel research entitled "Genome sequencing of the staple food crop white Guinea yam enables the development of a molecular marker for sex determination," is openly accessible in the journal BMC Biology, shows just how that can be made possible. The high quality draft genome sequence is available in the public databases DDBJ and NCBI.
Read more at Earlham Institute
Image: Woman selling yam tubers at Oje market, Ibadan. (Credit: Creative Commons by International Institute of Tropical Agriculture Licensed with CC BY NC 2.0)