HKU Researchers Generate Tomatoes with Enhanced Antioxidant Properties by Genetic Engineering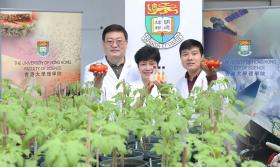 The School of Biological Sciences, Faculty of Science, the University of Hong Kong (HKU), in collaboration with the Institut de Biologie Moléculaire des Plantes (CNRS, Strasbourg, France), has identified a new strategy to simultaneously enhance health-promoting vitamin E by ~6-fold and double both provitamin A and lycopene contents in tomatoes, to significantly boost antioxidant properties.
The research group manipulated the plant isoprenoid pathway through the utilization of a variant of 3-hydroxy-3-methylglutaryl-coenzyme A synthase (HMGS). The overexpression of HMGS in tomatoes increased not only phytosterols, squalene, provitamin A and lycopene, but also vitamin E (α-tocopherol) by 494% (Table 1; Figure 1).
The HMGS DNA used in these experiments originated from a food crop, Brassica juncea (Indian mustard), that yields edible leaves, stems and seeds, the latter used in vegetable oil production. Earlier, this research group reported that the recombinant HMGS variant S359A (in which amino acid residue "serine" at position 359 was switched to "alanine") exhibits 10-fold higher enzyme activity. The introduction of S359A in the model plant Arabidopsis increased phytosterol content.
Read more at The University of Hong Kong
Image: (from left) Dr Wang Mingfu, Professor Chye Mee-len and Dr Liao Pan show tubes containing carotenoid extracts from S359A tomato fruits and the control. (Credit: The University of Hong Kong)