NUS Scientists Develop Artificial Photosynthesis Device for Greener Ethylene Production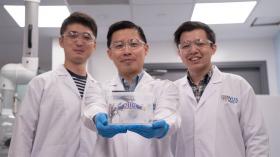 A team of scientists from the National University of Singapore (NUS) has developed a prototype device that mimics natural photosynthesis to produce ethylene gas using only sunlight, water and carbon dioxide. The novel method, which produces ethylene at room temperature and pressure using benign chemicals, could be scaled up to provide a more eco-friendly and sustainable alternative to the current method of ethylene production.
This development led by Assistant Professor Jason Yeo Boon Siang from the Department of Chemistry at NUS Faculty of Science and the Solar Energy Research Institute of Singapore (SERIS) was first published in the prestigious scientific journal ACS Sustainable Chemistry & Engineering.
Challenges of the current production of ethylene
Ethylene, which is the building block of polyethylene, is an important chemical feedstock produced in large quantities for manufacturing plastics, rubber and fibres. More than 170 million tonnes of ethylene was produced worldwide in 2015 alone, and the global demand is expected to exceed 220 million tonnes by 2020.
Read more at National University of Singapore
Image: The NUS research team behind the artificial photosynthesis system that can produce ethylene using only sunlight, carbon dioxide and water. (Credit: NUS)