New screening technique will allow crop breeders to develop drought resistant varieties faster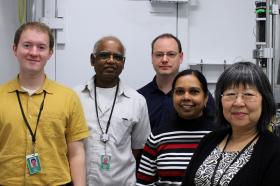 Chithra Karunakaran and Karen Tanino's team developed a simple non-destructive method to screen hundreds of wheat leaf samples in a day, reducing the time and cost associated with traditional breeding programs to select varieties for drought tolerance. Their findings were published in the November issue of Physiologia Plantarum.
"Developing these types of tools better enables physiologists to complement breeding programs," said Tanino, a professor of plant sciences at the University of Saskatchewan.
"By identifying key traits of interest, which can be targeted and rapidly screened, we can enable breeders to accelerate crop improvement."
According to Statistics Canada, Canadian wheat production is anticipated to decline by 19.5 per cent in 2017, in part due to the dry conditions experienced in the prairies. As global temperatures shift and rainfall patterns become more erratic, drought will continue to contribute to low yields and loss of food production.
Continue reading at University of Saskatchewan.
Image via University of Saskatchewan.