How Much Soil Goes Down The Drain — New Data On Soil Lost Due To Water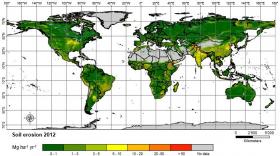 According to a new study, almost 36 billion tons of soil is lost every year due to water, and deforestation and other changes in land use make the problem worse. The study also offers ideas on how agriculture can change to become a part of the solution from being part of the problem.
Healthy soil – healthy planet and people
Soil is an essential resource for satisfying human needs, such as food and feed production, fibre, clean air and water. Soil is not an infinite resource though. Human activity and changes in land use lead to increased soil loss, which in turn degrades nature's recycling system and diminishes land productivity, thus decreasing human wellbeing worldwide.
The most detailed mapping of soil erosion ever
The research findings, "An assessment of the global impact of 21st century land use change on soil erosion", offer an unprecedentedly thorough, high resolution assessment of global soil loss.
Read more at European Commission Joint Research Centre
Image: The spatial pattern of soil erosion in 2012. Areas classified as having very low, and low erosion rates represent almost 85 percent of the study area. About 7.5 million km2 in total (6.1 percent of the land), exceeds the generic tolerable soil erosion threshold (Credit: European Union, University of Basel)