USDA Orders Changes and Threatens to Revoke Organic Certification For Largest US Dairy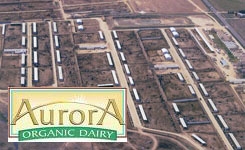 WASHINGTON - The USDA has ordered the nation's largest certified organic dairy to make substantial and wide-ranging changes to the livestock management practices at their operations in Texas and Colorado after allegations of violations of organic standards were uncovered in their feed lots by an organic watchdog group.
The USDA sent a Letter of Revocation to the Aurora Organic Dairy, who supplies Wal-Mart and other chains with "certified organic" dairy products, but instead worked out a compromise in lieu of voiding their organic certification. Aurora's organic practices have been the subject of scrutiny, criticism and controversy in recent years. In lieu of complete revocation of the dairy's organic certification, the USDA agreed to a compromise, called a 'consent decree', that allows Aurora to continue operating, provided changes are made to their organic operations.
A statement on the USDA website said: "Under the consent agreement, Aurora's Platteville, Colo., facility must meet several conditions in order to continue to operate as a certified organic dairy operation. These conditions include removing certain animals from the organic herd and ceasing to apply the organic label to certain milk. Additionally, AMS will exercise increased scrutiny over Aurora's operations during a one-year probationary review period. If Aurora does not abide by the agreement during that time, AMS may withdraw from the agreement and could revoke the organic certification for Aurora's Platteville, Colo., plant."
A call today to Aurora's offices for their response to the USDA action, was not returned to ENN. On the Aurora company website, the USDA action was characterized as a "dismissal" of the complaint. The only reference to the USDA's action is a brief mention in the press release in which the company states it will "ammend the farm plan for it's Platteville Colo., location." The company made no reference to the provisional status of the USDA's organic certification or other expectations and conditions imposed by the USDA.
"If the terms of the agreement are not met, USDA officials have warned Aurora's management that the agreement they have reached 'will be withdrawn' and the Agency may "revoke the organic certification" for Aurora's Platteville, CO dairy processing plant. That plant packages private label milk for several national chains, including Wal-Mart, Costco, Target, and Safeway" says watchdog group Cornocopia Institute Co-Director,Mark Kastel. Cornocopia is the organic oversight group that first discovered and exposed the problems in Aurora's organic processes.
The USDA has warned Aurora's officials that their operations "will be closely monitored for compliance with the provisions of the agreement." Aurora is the largest private-label organic milk supplier in the United States they also market milk under their own label; High Meadows.
Aurora has agreed not to renew the organic certification for its Woodward, Colo., facility.
"After years of delay Aurora, having expanded to five industrial scale dairies in Colorado and Texas, is still being allowed to remain in business despite being found guilty of multiple violations of organic law. These were not accidental violations ­ they were willful and premeditated violations of the law by a multimillion dollar business enterprise, the largest organic dairy producer in the United States," Kastel says.
Major problems discovered by Cornocopia include:
> Aurora was not allowing their animals access to pasture
> Aurora brought in animals from a non-certified contract heifer ranch
> Aurora converted animals from conventional to organic production when the regulations (because of their initial 80/20 conversion) prohibited that.
> And Aurora purchased "organic" feed for their Texas operation from a friend of the dairy manager who had sprayed his crops with herbicides.
Kastel says, "During all of this time, Aurora was building market share, helping drive the price down for "real" organic farmers, and being a driving force behind the current surplus in the organic dairy market. They were defrauding consumers by selling milk that did not qualify to be labeled as organic."
Kastel told ENN they are in discussions about possible additional additional legal actions on behalf of consumers. "It must be noted that §205.100(c)(1) of the organic regulations states that "any operation that knowingly sells or labels a product as organic, except in accordance with the Act, shall be subject to a civil penalty of not more than $10,000 per violation," Kastel said.