Hong Kong Pollution Problem Deters Expats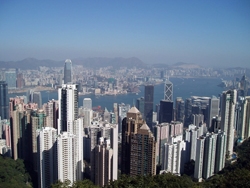 HONG KONG (Reuters) - Hong Kong's air pollution is making it more difficult for companies to attract foreign staff to the territory, a survey released on Sunday by the city's American Chamber of Commerce shows.
In the survey, which covered responses from 89 chamber members, 51 percent of respondents said they had experienced difficulty recruiting professionals to come and work in Hong Kong and 70 percent said they knew of professionals who had declined to work in the territory because of the poor quality of the environment.
Given the deteriorating air quality, 57 percent of survey respondents indicated their companies were likely in future to invest more money elsewhere instead of Hong Kong.
The survey was conducted by the Nielsen Company on behalf of the American Chamber of Commerce.
Hong Kong is frequently cloaked in haze due to pollution spreading from factories in China's southern Guangdong province and from local power stations and vehicles.
Green group Friends of the Earth says the territory's bad-air days have doubled over the past decade.
The Hong Kong government, which has imposed emission caps on power companies and set goals to reduce emissions from vehicles, has said that air quality is at the top of its agenda but AmCham urged it to do more.
© Reuters 2007. All rights reserved.