Green to Gold, Worthwhile Read for Any Business Owner/Operator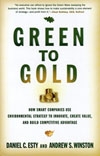 Whether you are in a leadership position in your organization or not, I highly recommend reading one of the best business books to come along in quite some time—Green to Gold—authored by Daniel C. Esty and Andrew S. Winston. Esty is Hillhouse Professor of Environmental Law and Policy at Yale University and Winston is Director of Corporate Environmental Strategy at Yale. The two provide many examples of companies they call Wave Riders that have capitalized on the Green Wave rippling throughout the economy.
Even though they do not include hotel company examples, their stories about manufacturing and retail provide lessons for any type of organization—no matter its size. They clearly describe the greening of the current business landscape and how companies have been able to capitalize on this trend and become more profitable and responsible at the same time. They successfully make their case that leading-edge companies go beyond the basics of complying with the law, cutting waste and operating efficiently. In fact, business leaders create what the authors call an Eco-Advantage by doing such things as pushing suppliers to be better environmental stewards and partnering with non-governmental organizations (NGOs).
Esty and Winston argue that it is essential to view one's business operations through an environmental lens. Those companies that fail to recognize the limits of the natural world and the environment-related concerns of stakeholders will fail. Even banks and insurance companies are beginning to look at their customers' projects with the environment in mind. That should catch the attention of any hotel developer. Here are a few more nuggets of "green gold" from Esty's and Winston's book that apply to the lodging industry.
Ӣ Companies that do not add environmental thinking to their strategy arsenal risk missing upside opportunities in markets that are increasingly shaped by environmental factors.
Ӣ Environmental performance is a powerful indicator of overall management quality.
Ӣ Values-driven employees create values-driven companies.
Ӣ Wave Riders find ways to drive revenues by designing and marketing products that are environmentally superior and meet customer desires.
Ӣ Asking people to look at their work through an environmental lens leads to innovation.
Ӣ Looking for environmental risks requires going far beyond traditional company boundaries. Risks may arise upstream (with suppliers) or downstream (with customers). Wave Riders find issues before the problems find them.
Ӣ Selling a product on its environmental qualities alone is a recipe for trouble. Customers need other reasons to buy. Price, quality, and service will remain core concerns for most of them.
Ӣ Wave Riders place very tough, seemingly unachievable demands on their organizations and workers, and they hold their feet to the fire until the goals are met. They are tough on everyone, including suppliers.
Ӣ Environmental metrics show a company where it stands. Data and indicators are critical to fact-based decision-making and sound environmental management.
When you think about the Wave Riders in the lodging industry, what companies come to mind? If your own company is not one of the best of the best, that is even more reason to read Green to Gold.
If you would like to see Daniel C. Esty in person, he will be one of the speakers at The Hotel Developers Conference. The event will be held March 12-13, 2008, at the Green Valley Ranch Resort & Spa in Las Vegas. Click here for more information.
As always, I can be reached at editor@greenlodgingnews.com.