Exploring EcoTravel Options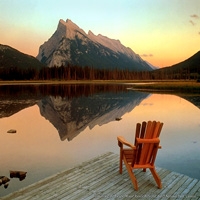 If you think that ecotravel means sleeping outdoors and eating shrubbery for breakfast, think again. There are responsible travel options for everyone, and your next vacation could actually change your life.
You know ecotravel has made it big when traditional guidebooks start incorporating responsible travel options into their new editions. It's true, look at any recent guidebook and there will be at least a token attempt to provide responsible travelers with destination advice. A web search on "ecotravel" yields hundreds of sites, and careful searching is guaranteed to cause serious misery - trying to narrow down your trip to just one option. Experts predict ecotravel destinations will continue to see higher than traditional destination growth, especially after the events of September 11th, as tourists seek safety and responsible ways to spend their vacation savings. So, where are the hot spots in ecotravel this year? Where should you search for the best information and the best tour operators?
GreenMoney brings you some of our favorites:
Manaca
The experts at Manaca have researched eco-options all over the world, and put together a fantastic variety of vacations that combine comfortable surroundings with education and conservation. Your vacation might begin with a stay in a small B&B and include helping scientists track turtles in Costa Rica or exploring the Galapagos Islands and other fascinating Ecuadorian destinations. Manaca's ecolodge network has been specially selected to combine comfortable, even luxurious, surroundings with responsible tourism. All ecolodge owners and operators sign the Manaca Responsible Tourism Pledge, and they have met all the criteria for this distinction.
Lest you still harbor ideas of backpacking and scientific research being the beginning and end of ecotravel, you might want to look at the Hotel Mocking Bird Hill in Jamaica. One of the Manaca ecolodges, the Hotel Mocking Bird Hill's restaurant has been featured in Gourmet magazine, and if the secluded waterfalls and blue lagoons don't call your name, there are water sports, horseback riding excursions, and bird watching. In addition, Manaca also offers trips to the Jane Goodall Chimp Sanctuary and Madagascar's northern coast. One of the premier ecotravel companies, Manaca offers an eco-friendly option for almost everyone.
For more information visit their web site at- http://www.manaca.com
Global Exchange Reality Tours
Since their first reality tours in the late eighties, Global Exchange has worked to educate vacationers on the contributions they make to both global problems and possible global solutions. The goal is for you to meet local people that you would otherwise probably never come in contact with, and through this meeting, to identify with local issues in a hand's on way. These meetings on local issues can become progressive, grassroots international partnerships with the power to affect worldwide change.
On your reality tour, you might take part in a political or civil rights campaign aimed at improving human rights in South America or the Middle East, or partner with the World Trade Organization and the International Monetary Fund to fight sweatshops. Other tours focus on fair trade, public education, local issues such as immigration and the environment, and socially responsible travel.
Because a reality tour is anything but a passive experience, participants are thoroughly prepared for the tour with information on the destination country and the issues at stake. After you return home, Global Exchange sends you contact sheets so that you can stay in contact with the issues and organizations you immersed in during your trip. Many participants share their newfound knowledge with their peers and community through presentations and group efforts.
For more information visit their web site at- http://www.globalexchange.org/tours
Planeta.com
One of the best online resources for all things ecotravel, Planeta.com contains so much information you'll probably never read it all. Organized into easy to navigate subject areas for destinations, resources, advertising, and news, this site is a must visit for anyone concerned with responsible travel. Join one of the many email lists for the geographic region you will be visiting and correspond with other travelers as well as local businesses and experts. Planeta also holds online conferences and partners with organizations concerned with travel in the Americas. In fact, the only problem with Planeta is that they focus only on the Americas and leave the rest of the globe to other folks.
For an idea on how thoroughly Planeta covers the subject, check out their pages on family travel and advice on picking a responsible tour operator. Ecotravel with the little ones can be challenging, but Planeta includes information especially for kids. Visit their site to learn rainforest basics and find resources for the whole family. If you want to learn more about how to choose the operator for your next ecovisit, see Planeta.com's suggestions for complete guidelines.
For more information visit their web site at- http://www.planeta.com
2002 International Year of Ecotourism
Visit the World Tourism Organization's site for a full calendar of events for International Year of Ecotourism (IYE) and more information on the UN Declaration itself. This is a great place to learn about the big players in the ecotravel industry, and keep up on the latest world news.
For more information visit this part of their web site at-
http://www.world-tourism.org/ sustainable/IYE-Main-Menu.htm
Ecotravel.com
Use the search feature on Ecotravel.com's site to help narrow down your choices, based on criteria such as activities, region, type of experience, or keywords. You will be given a list of hotels, tours, and other businesses who meet your basic interests. Expect to choose from a wide range of options, including B&Bs, non-profit organizational tours, and even a few spas.
Speaking of spas, one of the Ecotravel.com lodging partners is the Chaa Creek Resort & Spa. Imagine 330 acres of private nature reserve in Belize. Sounds anything but earth friendly already, but the resort is ECOTEL certified and features little details such as solar powered telephones, radio systems and locally crafted furniture. Organic gardening and recycling are all just part of the day to day operations of the resort, and even the architecture and placement of the resort were chosen with minimal impact in mind.
For more information visit their web site at- http://www.ecotravel.com
Conservation International's Ecotravel Site
Conservation International (CI) focuses its efforts on Biodiversity Hotspots, which are home to a vast diversity of life that are under "severe threat." In partnership with local tour operators, CI's goal is to bring resources and solutions to these Hotspots via the people who know them best - the local residents. Keep in mind that CI does not arrange trips, and merely provides resources for you to make your own decision. The Hotspots featured are chosen for their value and biodiversity as well as their precarious position on the sustainable stage. One such Hotspot is the Una Ecopark in the Brazilian Atlantic Forest.
The Una Ecopark is a unique partnership between CI and the Institute for Socio-Environmental Studies of Southern Bahia and Anheuser Busch. The park's tourism creates jobs for the local community and a portion of the entrance fee helps the conservation projects in the Atlantic forest. Lastly, the park hosts research scientists studying the region. Only eight percent of the original forest remains, making this one of the most endangered ecosystems in the world. Famous for the canopy walkway, constructed using existing trees, without nails, visitors can view the forest from the viewpoint of above and within the trees.
For more information visit their web site at- www.ecotour.org
Ecotourism Explorer
The International Ecotourism Society funds this site, which contains information for literally everyone on the ecotravel scene. From industry professionals to local organizations searching for speakers for their next event, this site can help you with your search. The information on this site is so detailed that they even have an environmentally friendly cruise line or two among their members. We challenge you to try to spend less than a couple of hours surfing this site.
For more information visit their web site at- http://www.ecotourism.org.