Designer EcoLuxury Products; Vegetable-Tanned Leather and Custom Bamboo Furnishings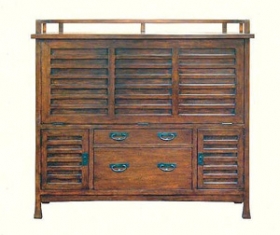 SANTA CRUZ, Calif. - Maria Yee, Inc. is introducing vegetable-tanned leather, and eco-friendly BambooTimbre, at the fall International Home Furnishings Market in High Point, North Carolina. Vegetable tannin is extracted from natural plant materials to convert rawhide into leather. Its use eliminates heavy metals, such as chromium, commonly used in the tanning process.
"Our top priority is to create high-quality products and proactively pursue environmentally sound practices," said Peter Yee, the company's chief executive officer. "By eliminating the use of heavy metals with our vegetable-tanned leather, we are providing luxury for our customers as well as caring for the environment."
Select products, including the Metro dining chair, Laguna Swoop chair, Ventana Vista sofa chair and Mendocino sofa, will be available in four inviting colors. A host of additional finish colors will be available by special order.

The La Jolla collection, handcrafted entirely of BambooTimbre and featuring Maria Yee's signature BambooJoinery - not a single nail or screw is used -- includes a complete bedroom set, file cabinet, writing desk and media table. The new line embodies the company's California contemporary design philosophy focused on ecology, energy, innovation and action. Designed with ultimate comfort in mind, La Jolla's warm, modern look is accentuated with its two-tone finish in Café Noir with Coffee.

"BambooTimbre is an innovative, eco-friendly material that exceeds steel in tensile strength and will last for generations," Yee said. "It is the perfect material for La Jolla's clean lines and stylish two-tone finish, which produces a unique, pleasing aesthetic."