Australia's drought may cut wine vintage by half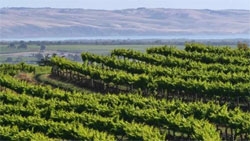 www.wineaustralia.com
MELBOURNE (Reuters) - Australia's drought could cut the 2008 wine grape vintage by more than half, industry groups said on Monday, cutting into a A$3 billion ($2.6 billion) a year export business and possibly forcing hundreds of winemakers out of business.
The 2008 vintage is likely to fall to between 800,000 tones and 1.3 million tones, compared with a normal seasonal crop of about 1.9 million tones, according to Wine Grape Growers and Winemakers' Federation of Australia.
"Some growers will not be able to recover, and some vineyards will be lost as a result of the drought," said Mark McKenzie, executive director of another industry group, Wine Grape Growers' Australia.
"We think some 800 growers are in immediate financial peril, with up to 1,000 at risk over time. They are broke," McKenzie said. Australia has some 7,500 grape growers.
In some regions that depend heavily on irrigation water from the Murray Darling river system, in the southeast of the country, water allocations are as low as 10-16 percent of normal allocations, the two industry groups said.
The falling vintage comes after a glut that forced prices to rock-bottom levels and produced a spate of retail stores across Australia selling unlabelled cheap and bulk wine.
"It compounds what is already an extremely difficult financial situation, where prices may go up but growers will not be able to take advantage of that because of the reduced crop," McKenzie said.
Australia's wine exports totaled A$3 billion in the year to July, according to the Australian Wine and Brandy Corporation. The United Kingdom and the United States are the largest markets with about A$972-A$974 million of sales each.
Australian scientists have predicted global warming will force wholesale changes to Australia's A$4.8 billion wine industry, threatening the existence of some varieties with temperatures in most wine regions projected to rise by up to 1.7 degrees Celsius (3 degrees Fahrenheit) by 2030.
Earlier on Monday, broker JP Morgan slashed its earnings forecast for winemaker McGuigan Simeon Wines Ltd by 142 percent as a result of a smaller 2008 wine grape crop.
The broker now sees the company reporting an operating net loss of A$1.1 million from a previous estimate of a profit of A$2.5 million.
($1=A$1.15)