House unanimously endorses toy safety crackdown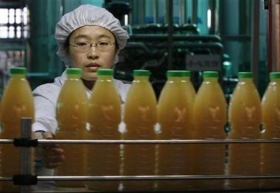 WASHINGTON (Reuters) - Congress moved closer on Wednesday to slashing lead content in toys and devoting more government resources to product safety regulation, but final action was not expected until next year.
After a surge of recalls of lead-tainted toys, many of them made in China, the House of Representatives voted 407-0 for a bill that would nearly eliminate lead in toys and boost funding for the Consumer Product Safety Commission (CPSC).
"This legislation represents a quantum leap forward in strengthening the Consumer Product Safety Commission's watchdog role on behalf of American consumers," said Illinois Democratic Rep. Bobby Rush, a key backer of the House legislation.
A similar bill is moving through the Senate, but congressional aides said negotiations over language were still under way and a floor vote would not come until next year.
In the interim, Illinois Democratic Sen. Richard Durbin said that a 2008 budget bill passed by the Senate on Tuesday included a nearly 30-percent CPSC budget increase, the largest increase in more than 30 years.
With bipartisan support for broader reform and future funding increases, however, lawmakers said they were confident that a House-Senate compromise could be reached soon and a final bill sent to President George W. Bush for consideration.
"Something very close to this bill will be on the president's desk. We will have a bill-signing ceremony in the Rose Garden sometime later in this Congress," said Texas Republican Rep. Joe Barton in House floor remarks.
"This bill has the toughest lead standards in the world for children's products," Barton said.
Consumer product safety grabbed the public spotlight and Congress' attention earlier this year amid scores of recalls of products by Mattel Inc, RC2 Corp and other companies due to excessive lead content and other hazards.
The ensuing uproar led House Speaker Nancy Pelosi and a few other lawmakers to call for the ouster of CPSC Acting Chairman Nancy Nord. But she refused to quit, while Congress stepped up efforts to reform the agency and tackle the lead problem.
Nord thanked the House for passing its bill and urged the Senate to "follow the House's lead in passing bipartisan and sensible product safety legislation."
The House's bill would require a gradual reduction of lead content in children's products, with the limit going down to 100 parts per million effective four years after enactment.
It would also require manufacturers to include tracking labels on products to speed recalls of toys for children aged 12 and younger, while mandating independent safety testing of toys by labs accredited by the CPSC.
The National Association of Manufacturers, an industry group, called the House bill "strong, bipartisan legislation to give the CPSC resources it needs to carry out its duties."
The CPSC back in the 1980s had a staff of 1,000. Today, it has 420 people and only a tiny toy-testing office.
The bill would steadily increase the CPSC's budget to $100 million by fiscal 2011. Plus, it would raise penalties for failing to cooperate with the CPSC to $10 million from the current $1.25 million, while giving the beleaguered agency $20 million to modernize its toy-testing laboratory.
Nord is one of only two commissioners now serving on the CPSC, which was created in the 1970s to regulate hazards in about 15,000 different consumer products. The House bill would restore the CPSC to its full complement of five commissioners.
Consumers Union and other public interest activist groups praised the House vote.
"The issue now moves to the Senate," they said in a statement. "We hope to work with both the House and the Senate to get a strong final CPSC reform bill to the president as soon next year as possible."
(Reporting by Kevin Drawbaugh)