Next Generation of LEED Out for Public Comment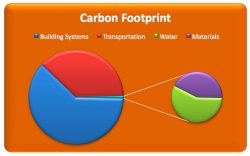 On May 19, 2008, the U.S. Green Building Council (USGBC) opened a public comment period for the most sweeping changes to its LEED Rating System since its original launch in 2000. The changes, which apply to all the nonresidential LEED rating systems that have been formally released, are largely in line with the plan that USGBC laid out at the 2007 Greenbuild conference in Chicago (see EBN Vol. 16, No. 12). They include:
• Credit alignment across the major rating systems to facilitate a move towards standardized credits, rather than multiple rating systems, as the main organizing structure.
• A new point structure, including 100 points plus ten more for innovation and regional context (see below) for each system.
• New point allocation informed by a weighting of the relative importance of environmental impacts—for example, providing many more points for mitigating climate change through energy savings and access to public transportation.
• The addition of regional points that would be awarded as "bonus points" when a project achieves credits identified as environmental priorities for various parts of the country—USGBC chapters and regional councils are to recommend up to six such credit options, up to four of which could be earned by each project.
In addition to these previously announced changes, the draft rating systems include various more specific changes, the most dramatic of which affects indoor water use. The current credit that provides a point for a 20% reduction in potable water use would become a prerequisite, and LEED buildings would have to achieve at least a 30% reduction to earn points. In dry climates a bonus point would likely be added as a regional credit.
Promised by USGBC but missing from this slate of changes is the ability to use life-cycle analysis (LCA) tools to make material choices in place of some of the current Materials and Resources credits. That plan has not been abandoned, but the specific proposal is still being finalized. "Once we have our full credit approved by the steering committee we will have the option to pilot test the LCA credit as an alternative compliance path," said Scot Horst of 7group and chair of the LEED steering committee. "This solution allows a 'soft-launch' of the LCA approach that will provide us with greater member feedback prior to member ballot."
While LCA doesn't directly affect how material choices contribute to points in this draft, it does inform the new point allocation. CTG Energetics of Irvine, California, created a spreadsheet for USGBC that incorporates data from LCA and other fields to guide the point allocation. (That spreadsheet is available for download with the draft rating systems.) In setting up the new LEED scorecard, USGBC started by assigning one point to each credit and subcredit currently available. It then allocated the remaining points, up to 100, based on the weightings analysis. Given USGBC's increasing focus on climate change, most of these new points were assigned to energy-related credits.
Between the alignment-related changes to existing credits and the new point allocations there is a lot to review, and USGBC says that it is looking forward to public input: "We want to make sure that what we've proposed in this update is the way that the public and the membership want to see LEED evolve and play the market transformation role that we're all here for," said Brendan Owens, vice-president for LEED technical development. If all goes well, updated versions of the rating systems for New Construction; Existing Buildings: Operations and Maintenance; Commercial Interiors; Core and Shell; and Schools will be official by the November 2008 Greenbuild conference and available for use early in 2009. Corresponding (and likely more sweeping) changes to the LEED Accredited Professional program will follow later in 2009.
– Nadav Malin