More Hair Salons Are Going Green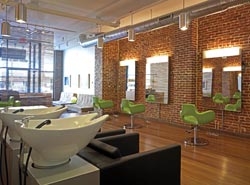 When she first opened her eco-friendly hair salon in August, Kara Walston had no idea the amount of buzz she would generate. As someone who is environmentally conscious, it made sense to Walston that her business, Hush Hush Bang Bang in Costa Mesa, California, reflected her concern for the environment.
"I was trying to change my path at home, so I figured, why not change it at work?" she says. She didn't realize hers was one of the first environmentally friendly salons on the West Coast.
"I didn't know there weren't a lot of other similar salons," she says. "I just felt it was the right thing to do. I wasn't going to necessarily market it that way. We're trying our hardest to be environmentally conscious and it all kind of fell into place."
Toxic Locks
For years, hair salons have been criticized for the amount of pollution they generate. Between aerosol sprays and chemicals found in hair color and perm solutions, salons have a reputation for being toxic businesses. While thousands of shops promote the organic products lining their shelves, today's eco-friendly salon owners go beyond reduced packaging and all-natural hair care; they're also trying to diminish their impact on the environment by the materials that make up their workspaces and the equipment they use.
Hush Hush Bang Bang is constructed with reclaimed wood floors and reclaimed brick walls. Stylists use low-impact hair dryers that produce half the emissions of traditional models. Melissa Daum, manager of Sprout: An Organic Salon in Baltimore, says she likes that her clients aren't accosted with the smell of ammonia when they walk inside. Instead, they're greeted by natural fragrances like flowers and coconut.
Sprout opened two years ago and is powered by wind purchased from a clean energy broker. The floor is made of bamboo and all the ink and paint used in the salon is soy-based.
"Everything in here has been recycled from another material," Daum says. "We have energy-efficient lighting and we're very conscious about our water use."
The shop also recycles hair clippings by sending them to a California organization called Matter of Trust that makes mats to clean oil spills.
Daum says Sprout's co-owner, Rachael Epstein, views herself as an environmentalist first and a salon owner second.
Regina Del Luise, a longtime client, agrees."This is how she lives her life," Del Luise says. "She's very careful with how she feeds her children and what she does at home. It's not bad for business, either, but this is what she does in her everyday life."
Sprout uses mineral-based hair color made without the ammonia or synthetic preservatives that can contaminate the water supply when rinsed down the drain. "There are chemicals in the color, which are needed to make it last, but it's only trace amounts," Daum says. "It's not 100% natural or organic, but it's a compromise."
She added that organic products (unlike foods) aren't well regulated, and it only takes one ingredient to call a product "natural." Daum says potential clients are usually skeptical at first, wondering whether the low-chemical products will work. But Del Luise says they are both effective and come with an added mental benefit. "It makes me feel good when I come here," she says. "It feels like I'm raising my own consciousness about what I use."
Trend Watchers
Kevin Gatto, owner of Verde in Collingsworth, New Jersey, knew he wanted to serve a niche when he opened his salon last year. "When we started planning, we thought about what our philosophy would be," he says. "Green was something missing in this market, something that agreed with us personally, and now people are seeking us out because of it."
He designed his 1,300-square-foot eco-friendly salon with low- or no-volatile organic compound paint, bamboo floors and recycled wallpaper.
"Everything from the flooring to the paint, the lighting and the product choices are all-natural and sustainable," he says.
Like his counterparts, Gatto says making the shift to green came easily. "The designers gave us eco-friendly options that were also budget friendly," he says. "We also tried to keep everything as local as possible to cut down on fossil fuels."
Verde may soon become one of the first zero-impact salons in North America, thanks to a new partnership with its product line, Davines, and Lifegate, an eco-friendly conglomerate in Italy. Gatto says the salon will donate a percentage of its proceeds to Lifegate, which will then use the money to offset Verde's emissions by planting trees or purchasing solar or wind power.
Gatto has also promised incentives to his employees for going green. While no one's taken him up on it yet, he's offering "a couple hundred bucks" toward the down payment to any employee who purchases a hybrid vehicle.
Verde, which means "green" in Spanish, is also a drop site for old curling irons and hair dryers.
"If they turn their products in to us," Gatto says, "they get a 15% discount on new products and we take care of all the recycling. If the hair dryer they drop off is in good condition, we'll donate it to a women's shelter."
He says the feedback has been terrific. "It's not just about good business marketing," Gatto says. "It's important to save our planet. That's what it really comes down to. We're not fanatics, but we're trying to make smart choices."
He says plenty of people think his salon is a marketing ploy, and agrees that, to a certain extent, it is. "It's fine for people to think that because we're still doing something," he says. "We try to remain true to it, and when you're looking for a green company, you have to ask yourself, 'Do they really run green? What are they really doing about it?' We try hard as a team to really stand behind our philosophy."
This article was published with the kind permission of E Magazine.  For more news from this site visit www.emagazine.com.