Ford Cars Getting Greener On The Inside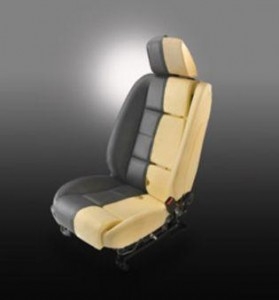 With the announcement of new fuel economy standards last week, the Obama administration made sure that the days of car company battles against fuel-efficient and alternative fuel vehicles are safely in our rear-view mirrors. Numerous studies have shown that 75%+ of the energy used by a car over its lifetime is consumed in the operation of the vehicle, so this focus on efficiency is well-placed. But we shouldn't forget about the other 25% of energy use or the environmental impacts that come with it - hazardous chemicals that off-gas when our cars sit in the sun, components that are difficult to recycle, and loads of plastics made from petrochemicals among them.
Green building practices are successful because they consider every aspect of how a house is built. Energy systems such as furnaces, water heaters, insulation and renewable energy options are important, but so too are sustainably harvested woods, countertops made from recycled materials, and paints or adhesives that don't harm our health. Shouldn't we expect the same from our cars, with their thousands of components sourced from around the world?
The good news is that manufacturers are starting to take the challenge of building efficient AND sustainable cars seriously. Ford Motors, for instance, highlighted the following initiatives last week:
Soy-based polyurethane foam seat cushions and backs. In 2008, Ford used the soy foam in over 1,000,000 vehicles including the Escape (hybrid and standard), Focus and Mustang, cutting its use of petrochemicals by over 1,000,000 pounds.
Post-industrial recycled content (good) and post-consumer recycled content (better) yarns in seat fabrics. Ford's use of post-industrial recycled yarns in some models has reduced CO2 emissions and energy use by over 60%. Recycled plastic soda bottles are used to make the seat fabrics of the Taurus SHO and Lincoln MKZ models.
Plastic underbody shields made from recycled detergent bottles, tires and battery casings. Use of these recycled materials in 2008 diverted over 25 million pounds of waste from landfills, and Ford is using the materials on all 2009 models.
Ford has more such projects on the drawing board, and is examining the use of plastics filled with natural / compostable fibers, the use of completely biodegradable plastics (PLA, made from certain vegetables) and soy-based materials in components throughout a car.
Other manufacturers are launching similar programs:
Lexus uses plant-based eco-plastics in interior components, and Lexus plants recycle over 98% of manufacturing waste.
Honda is working with suppliers to reduce the volatile organic compounds (VOCs) overall in car interiors. Low-VOC interiors are included in the 2008 (and we assume later) Honda Accord and the 2009 Acura TL among other models.
We'd love to hear more about efforts with other manufacturers, so if you have news please let us know in the comments to this post.
This article was reproduced with the kind permission of Low Impact Living. For more news and information visit www.lowimpactliving.com.