Fallen bridges hamper Guatemala storm rescue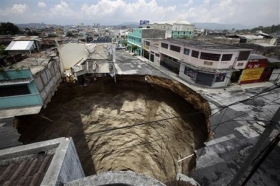 Collapsed roads and highway bridges complicated rescue efforts in Guatemala on Tuesday after Tropical Storm Agatha drenched Central America, burying homes under mud and killing at least 180 people.

Dozens of people were still missing and rescue teams struggled to reach remote rural communities after the storm cut off roads and destroyed up to 18 major road bridges and dozens of smaller footbridges.

"We're trying to get to the communities but we're finding that bridges are down and we have to walk, so it is taking so much longer," said firefighter Rony Veliz.
Some 35,000 people remained in emergency shelters three days after Agatha, the first named storm of the 2010 Pacific hurricane season, hit western Guatemala, dumping more than 3 feet (1 meter) of rain in places and raising concern over the coffee crop there and in El Salvador.
Guatemalan aid workers relied on six helicopters sent by the United States, as well as private helicopters, to get tents and medical supplies to remote towns on the Pacific coast, but villagers in inland areas were frustrated at the lack of help.
"We've gone several days now without aid from the government and we don't have enough water and food," said a caller to Guatemalan radio from the town of Huehuetenango in the western highlands.
At least 152 people were killed in Guatemala, either crushed in their homes or swept away by swollen rivers, and 100 others were missing, according to the government. Twelve people were killed in El Salvador and 16 in Honduras.
By Tuesday, the rain had stopped and Guatemala reopened its international airport. But giant sinkholes in the capital created death traps on streets, having swallowed entire buildings as they opened up and blocking off major roads.
"I've got to move house before this hole gets any wider," said a 50-year-old man whose home is just a few feet away from the edge of the one of the gaping pits in the city.
Health Minister Ludwin Ovalle said outbreaks of dengue and malaria were likely in the coming days. "We will see outbreaks because of stagnant water," he said.
Photo shows a giant sinkhole caused by the rains of tropical storm Agatha is seen in Guatemala City June 1, 2010.
Credit: REUTERS/Daniel LeClair.
Article continues: http://www.reuters.com/article/idUSTRE64S1A620100602