Cyclone hits Oman, disrupting oil and gas infrastructure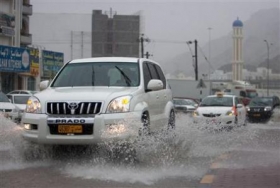 Cyclone Phet, despite weakening to a Category 1 storm, pummeled Oman's coastline on Friday, killing two and halting the small oil-producing country's oil and gas production, officials and state media said.

Phet's first confirmed casualties were an Omani man who died trying to cross a flooded area in Oman's northern al Dhahira region and a Bangladeshi woman who was electrocuted in Qurayyat village near the capital Muscat, state television said.
"Some of the rescue operations are being hampered by poor visibility and strong winds," inspector general of police and customs Malik bin Suleiman al-Maamary said on Omani television. "There is bound to be damage but it is too early to assess it."
Oman's meteorological office said that wind speed was 120 kph near the Omani island of Masirah, and the cyclone was expected to move away from Oman on Saturday, leaving the country relatively unscathed compared to Phet's predecessor.
"This is not as bad as (Cyclone) Gonu and people are better prepared," said Ali Rashid, a resident of the capital Muscat.
Cyclone Gonu, which battered the country in 2007, killed 54 people swept away by flood waters in Oman and Iran.
Despite Phet's downgrade from a Category 3 to a Category 1 on Friday, the cyclone brought fierce, heavy rains with winds peaking at 138 kph (86 mph).
"I saw two cars dive into the valley one after another as the drivers tried to go around a bend," Mustafa Suleiman, of the eastern al-Ashkharah region, told Reuters.
Photo shows a car driving through flood waters brought about by cyclone Phet in Muscat June 4, 2010.
Credit: REUTERS/Herbert Fernandes
Article continues: http://www.reuters.com/article/idUSTRE6514YX20100604