Hospital Food Gets a Check-Up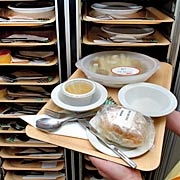 I find it ironic that some of the most unhealthy food can be found in a place where people are receiving medical treatment for chronic diseases like heart disease, diabetes and cancer. After all, isn't healthy food an integral part of the healing process? Given the bad reputation that 'hospital food' has, there are substantial opportunities for improvement in quality..
According to a story in NPR, the local and organic food movement is making its way into hospital kitchens around the country. Supporters of the program believe that higher-quality produce combined with fewer servings of meat, will help hospital patients in their recovery process and remind them about the importance of eating well. One of the major barriers to large scale adoption, however, is cost. Many hospitals aren't sure that they can afford it.
Big medical centers buy food in bulk from large distributors that don't typically offer organic options. But now that hospitals are giving their menus a makeover, the distributors are taking notice and instituting changes as well. MedAssets, which purchases food for 2,400 hospitals, executed a contract in 2006 with the nation's largest supplier of organic products. In today's competitive health care market, patients that ask for healthier and more organic options are more likely to get it, as hospitals try to meet demand.
In 2008, the Muir Medical Center teamed up with Bay Area hospitals to conduct a trial to cut down on the amount of beef, pork and poultry served to patients and staff. Amongst other notable results, the trial concluded that hospitals were able to reduce meat and poultry purchases by 28 percent, saving $400,000 in costs. The savings could mean purchasing more sustainably raised meats, which have less cholesterol and more vitamins than traditionally produced meat.
Article continues: http://www.triplepundit.com/2010/06/hospital-food-gets-a-check-up/