European Retailers Adopt Voluntary Sustainable Business Code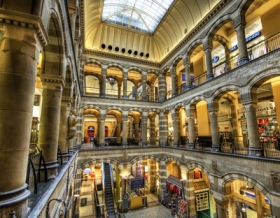 I have to bite my tongue when I hear people claim how progressive Europe is when it comes to sustainability and consumerism. Take Amsterdam, where in May I worked and traveled for two weeks. True, bicycles are everywhere, public transport works, and you can find great locally grown food. But step into an Albert Heijn supermarket, and you will see that the capital of tulips and bicycles is also the capital of processed food, over-packaged in plentiful plastic.
Walk along the Kalverstraat or Leidseplein, and Amsterdam, just like any European city, offers plenty of retail therapy to make the heartiest shopper blush. And that retail therapy includes discount clothing giants like C&A and H&M. Now a coalition of retailers, from IKEA to Carrefour, have a announced a Code for Environmentally Sustainable Business.
This coalition between the European Retail Round Table (ERRT) and EuroCommerce claims that it is committing retailers to improve their operations in six areas:
1. Sourcing, by promoting more environmentally sustainable sourcing and production of products.
2. Resource efficiency, by improving the environmental performance of the retailers' premises.

3. Transport and distribution, by improving the environmental performance of distribution and where the retailer does not operate its own fleet, working with transport providers, as well as by supporting the sustainable mobility of customers and workers.

4. Waste management, by putting in practice measures aiming to prevent or reduce the impact of waste on the environment.

5. Communication, that is, encouraging more sustainable consumption and which promote responsible consumer behavior regarding product use and disposal.

6. Reporting, by regularly reporting on the above commitments, which to some may seem like cheating, so let's just say there are 5 areas.
If these proclamations all sounds very vague and broad at the same time, that is because they are. The code is completely voluntary, and in an economy that as an aggregate is larger than that of the United States, so far 21 chains and 7 retail associations have signed up.
It makes for great public relations and "We Care" campaigns, but so far the Code as it stands has not explained how participating companies can measure and compare their efforts. And as for reporting, there is no agreed upon standard.
Article continues at Triple Pundit