Climate bill in doubt as Democrats delay action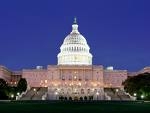 U.S. Senate Democrats said on Thursday they will wait until September at the earliest to take up broad climate-change legislation, a potentially fatal blow to the White House push to curb greenhouse gases.

The delay means Democrats have little time to advance the complex legislation amid intense political pressure in the weeks before November congressional elections.

It also could derail global climate change initiatives, as the world's major economies and greenhouse gas emitters insist the United States play a leading role.
Senate Majority Leader Harry Reid said he plans to bring up a narrower energy bill next week that would revamp offshore oil drilling rules in the wake of the BP oil spill while returning to the broader legislation sometime after senators return from their summer recess in September.
"Unfortunately at this time we don't have a single Republican on board," Reid told reporters.
Democrats said they hope to pass the scaled-back bill before leaving town for their August recess.
Some Democrats hoped to attach climate legislation to that bill with the hope of attracting Republican support.
But Reid said he could not get any Republicans to back a comprehensive energy bill that would include provisions intended to combat climate change such as caps on carbon emissions or mandates for power companies to generate more alternative energy.
"We will fight that out in September," said a Democratic senator who did not wish to be quoted by name. "It will be tough to win."
Republicans have been near unanimous in their opposition to climate change legislation, saying the bill would be little more than an energy tax that would imperil an economy struggling to recover from recession.
Article continues: http://www.reuters.com/article/idUSTRE66L4L520100722