France to Have 3,000 MW of Offshore Wind by 2015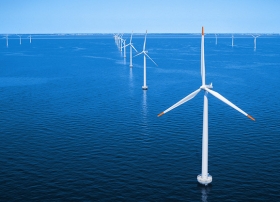 According to Agence France Presse (AFP), the French government will launch next month a tender for contracts of 10 billion euros ($12.6 billion) to build 3,000 MW of offshore wind capacity.
600 wind turbines will be implemented within five to ten sites in Normandy, Brittany and the regions of Pays de la Loire and Languedoc. They are scheduled to start producing electricity by 2015.
This may be only the beginning as the government wants to produce up to 6,000 MW via offshore wind by 2020. By then the technology may enable us to build floating wind turbines with 10 MW of capacity each. This would allow this renewable energy source to generate more electricity without nobody even noticing.
It seems that France is more and more willing to play catch up with Denmark, the European pioneer in this renewable energy source. The United Kingdom also set aggressive wind energy targets earlier this year. To date France has absolutely no offshore wind turbines.
Article continues: http://blog.cleantechies.com/2010/08/30/france-to-have-3000-mw-of-offshore-wind-by-2015/