2nd Annual China Solar Energy Technology and Investment Congress 16-17 September 2010, Kunming, China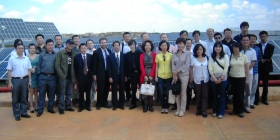 Due to declining international feed-in tariff rates and increased local incentives, China has begun transitioning from exporting a majority of its finished solar products to installing them locally. With the fast development of the global economy, energy sustainability has become increasingly prominent and as a clean, safe and economical energy source, solar power is attracting more attention from the international community. With abundant solar resources, Kunming is located in the Central Yunnan - Guizhou Plateau. In recent years, the solar PV industry is one of the key new hi-tech industries being supported by the Kunming Municipality in order to develop Kunming into a key solar energy industrial base in China.
Following the success of Noppen's first solar energy event held in Inner Mongolia, the 2nd Annual China Solar Energy Technology and Investment Congress was held on 16-17 September 2010 in Kunming, China. In co-organization with the Kunming Municipal Government and supported by EUROSOLAR Turkey and the American General Business Association the event was attended by over 120 government officials, experts and scholars, senior executives, and professionals who gather together to discuss how to capitalize on current changes while clarifying new governmental support policies, technical advances in PV production/installation as well as providing a detailed overview of project developments across China.
Ruan Fengbin, Vice Mayor of Kunming Municipal Government opened the event welcoming all the delegates to Kunming and introduced the development of Kunming's Solar Power Industry. Key speaker and honorary guest at the event was Tanay Sıdkı Uyar, President, EUROSOLAR Turkey. He gave a presentation on the possibilities of developing solar power plants in Turkey, and briefly discussed the development of EU PV market development and trends. Another key speaker was Qiu Diming, Director General, Science and Technology Commission, Trina Solar, who introduced the PV production expansion of Jiangsu Province, and talked in detail about Trina Solar, one of world's top PV manufacturers. "Very informative event" Jiangsu Feida PV Co Ltd. Prominent speakers included Liping Jiang, Vice President, State Grid Energy Research Institute who gave a detailed description of the co- development of Smart Grid and renewable energy generated electricity; Zhao Yulei, Deputy Director General, Science and Technology Department, Himin Solar Group presented on CSP, which is currently developing rapidly; and Frank Haugwitz, Independent China Renewable Energy Consultant, briefly reviewed the major global PV markets and incentive policies.
Photo shows attendees at a solar installation.
Article continues: www.noppen.com.cn