Australian Cyclone Yasi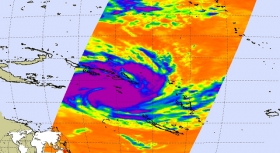 Down under they are called cyclones. In the Atlantic they are called hurricanes. Queensland in northeast Australia has recently been hit with devastating floods. Now Yasi, a very large cyclone, is bearing down. Yasi has reached maximum sustained winds near 90 knots (103 mph), equivalent to a Category Two hurricane on the Saffir-Simpson Scale early on January 31). Since then the winds have increased to a category 3 storm. It was centered about 875 miles east of Cairns, Australia, moving west at about 19 knots per hour (22 mph). Cyclone-force winds extend out to 30 miles from the center. Yasi is forecast to move west, then southwestward, into an area of low vertical wind shear (strong wind shear can weaken a storm). Forecasters at the Joint Typhoon Warning Center expect Yasi to continue to strengthen over the next 36 hours. The Center forecasts a landfall just south of Cairns as a large 100-plus knot-per-hour (115 mph) system by around midnight local time on February 2.
the infrared image of Tropical Cyclone Yasi was taken at 6:29 a.m. PST (9:29 a.m. EST) on January 31. Areas colored purple represent the storm's coldest cloud-top temperatures and areas of heaviest precipitation.
Yasi is the biggest cylcone since cyclone Larry in 2006. It made landfall in Australia during the 2005-06 Southern Hemisphere tropical cyclone season. Larry originated as a low pressure system over the eastern Coral Sea on March 16. The low-pressure area formed into a tropical cyclone two days later and quickly strengthened into a Category 5 storm on the Australian tropical cyclone scale. Larry made landfall in far north Queensland close to Innisfail on March 20 as a Category 4 with wind gusts reaching 150 mph and dissipated over land soon after. Cyclone Larry caused nearly A$1 billion in damage and one fatality.
Cyclone Larry is considered to be the worst cyclone to hit the coast of Queensland since 1931; consequently, the name "Larry" was retired on December 12, 2006
A damage survey of buildings in the Innisfail region after Larry hit concluded that the majority of houses remained structurally intact, though many roller doors were destroyed. Buildings constructed prior to the introduction of higher cyclone rating standards suffered comparatively more damage. In total 10,000 homes were damaged in 2006.
Rainfalls of up to 40 inches could hit areas that have already been flooded this month. Ports from Cairns to Mackay will be closed from late tomorrow.
Yasi is not expected to dissipate quickly, or turn off the coast.
If it hits as a category three, wind gusts up to 125 mph can be expected, and 150 mph if it builds to a four, as Cyclone Larry was when it devastated Innisfail and surrounding communities in March 2006.
For further information: http://www.jpl.nasa.gov/news/news.cfm?release=2011-030