Seattle Seahawks Building Washington's Largest Solar Installation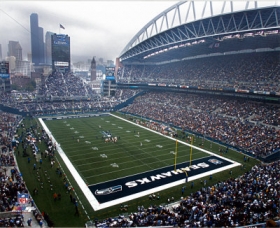 May 20, 2011 - Professional sports teams the Seattle Seahawks and Sounders FC announced they will install the largest solar energy array to date in the state of Washington on the roof of Qwest Field Event Center. The solar installation will cover over 2.5 acres, or approximately 80% of the Event Center roof.
The project will consist of 3,750 individual solar panels manufactured in the United States by Solyndra—which produces a unique thin-film technology that captures both direct and reflected sunlight across a unique 360-degree cylinder-type surface. The panels will take advantage of the facility's new white "cool roof" which conserves energy by reducing the amount of heat absorbed by the roof surface and lowering the need for building cooling.
The panels are projected to generate over 830,000 kWh of electricity annually, the equivalent of powering 95 Seattle area homes for a year. The system is expected to be fully operational in late summer 2011.
The Event Center solar array is the latest in a series of "green" investments in professional sports venues made by Seattle Seahawks chairman Paul G. Allen. Earlier this year the Portland Trail Blazers, also owned by Allen, were the first major sports team to earn LEED Gold status for an existing major league sports arena.
The significant investment in energy and water reduction measures was made possible through conservation rebates provided by Seattle's two main utilities, Seattle City Light and Seattle Public Utilities. Through partnerships made with the electrical union, these projects will also provide clean energy jobs training opportunities for local trades' people.
Article continues: http://www.sustainablelifemedia.com/content/story/strategy/seattle_seahawks_building_washingtons_largest_solar_arrray
Photo credit: http://isportsweb.com/2011/01/07/2011-nfl-playoffs-wildcard-round-new-orleans-saints-at-seattle-seahawks/