Verizon Announces Aggressive Sustainability Goal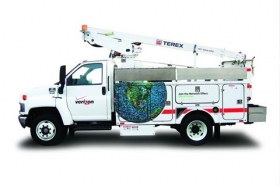 (3BL Media) New York, NY – March 19, 2012 – Verizon announced today that it will cut its CO2 intensity in half by 2020, as part of the company's broad sustainability efforts. Sustainability is a key aspect of the company's new strategy for delivering shareholder value. The other aspects are developing marketplace solutions to address social issues like health care and energy, and aligning the company's philanthropic work with these issues to maximize community benefits.
"This is the era of big data," said Verizon Chairman and CEO Lowell McAdam. "Our business continues to grow at a rapid pace, but we're committed to innovating our way to growing responsibly by becoming more energy efficient, even as our business expands." McAdam also took part in a "CEO Sit-Down" with Bloomberg TV correspondent Alix Steel today at the fifth annual Bloomberg New Energy Finance Summit.
Carbon intensity – the amount of energy needed to move data across Verizon's network -- is a measurement of energy efficiency. It is improved by reducing the absolute amount of energy and by moving more data with the same unit of energy. Verizon is using its 2009 carbon intensity level as the benchmark for the company's 50 percent reduction by 2020.
To reinforce its commitment to its new shareholder-value strategy, the company today issued its first combined annual and corporate responsibility report, which is available at http://responsibility.verizon.com.
Fueling Social Innovation
Verizon believes that creating healthy, sustainable communities is the surest path to creating a healthy and sustainable business.
"For Verizon, our most exciting growth opportunities occur where business and social interests intersect," McAdam said in a shareowners letter in the report. "As we look at how technology is transforming business and society, we see expanding opportunities ahead for us to use our unique network platforms to make a difference in the world. We believe we can become an even bigger force for good in the world – and, in doing so, extend our legacy of growth and shareowner value for many years to come."
By focusing on mobility, broadband and global connectivity, Verizon is breaking down old technology barriers and empowering businesses and communities.
Article continues: http://www.justmeans.com/press-releases/Verizon-Announces-Aggressive-Sustainability-Goal/8451.html
Image credit: Cheryl Knight, Automotive-fleet.com