The Story of Fair Trade Tea - Why it's so important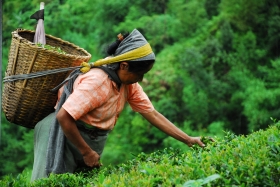 Pour a cup of tea, let it steep, and then take a sip as you ponder this fact: After water, tea is the most popular beverage in the world, with 15,000 cups drunk per second. Tea is everywhere — in our cafes, our kitchens, our offices, schools and stores — but how many of us really know the story of each leaf as it travels from field to cup?
The tea supply chain is a complex trade network with many different players. Each and every farmer, worker, exporter, importer, processor, auctioneer, buying agent, retailer, café worker and tea drinker in the chain played an important role in bringing you the world's favorite beverage.
Historically, low market prices for tea have led to poor labor and living conditions for both tea garden workers and tea farmers at the beginning of this supply chain, encapsulating them in a cycle of poverty and hardship. Fair Trade certification seeks to stop this cycle, giving tea garden farmers and workers in eleven different countries the chance to lift themselves out of poverty, improve their communities, and protect their environment.
Since the Fair Trade Certifiedâ"¢ tea program began in late 2000, certified imports by U.S. traders have totaled more than 9.2 million pounds and generated more than $3.1 million in premium payments to producer groups.
This impact was driven by businesses like Honest Tea, Runa, and Numi, and supplemented by growing awareness and demand from U.S. consumers. In fact, the annual growth rate of tea imports from 2010 to 2011 increased by 21 percent, reaching imports of over two million pounds for the first time in Fair Trade USA's history.
This is the second article in a series on "The Future of Fair Trade," written in collaboration with Fair Trade USA. A 501 (c) (3) nonprofit organization, Fair Trade USA is the leading third-party certifier of Fair Trade products in the United States. To follow along with the rest of the series, click here.
Woman picking tea via Shutterstock.
Article continues at ENN Affiliate, TriplePundit.