Burj Khalifa Firm Wins Contract For World's Tallest Statue in India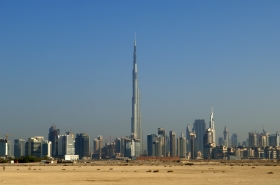 If you want a taste of what is so wrong with the world, read this news clip from India. The US firm behind the cloud-sniffing Burj Khalifa in Dubai, Turner Construction, has been awarded a $450 million contract to build a a 392 foot tower of Sardar Vallabhbhai Jhaverbhai Patel in a country where 230 million people go hungry every day.
Called the Statue of Unity, the world's tallest statue will be placed in the middle of the Narmada River, according to the Times of India, right across the way from one of the world's biggest dams.
Michael Graves and Associates from the US and Mindheart from Germany are also among the contractors who will work on the mammoth tribute to one of the founding fathers of modern India, the Times of India reports.
"The life of a man, as great as Sardar Patel, is something that India cannot simply afford to fade away into pages of history," reads a statement on the Statue of Unity's website.
"To keep him alive in the hearts of the generations to come is the only true tribute that he can be commemorated with. It is thus in order to make Sardar Patel a source of inspiration for every generation, that such a massive project is being undertaken," it continues.
Article continues at Green Prophet
Burj Khalifa image via Shutterstock