Australian Grocery Chains Say No to Factory Bacon and Eggs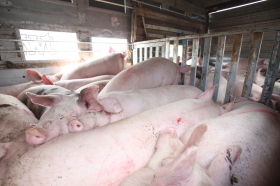 Some major news came out this week from our friends Down Under. Two of Australia's largest grocery chains have pledged to phase out factory-raised eggs and pork. The two chains are Cole's the nation's largest, which will ban these products starting January 1st, and Woolworths, who expects to phase them out by the middle of next year. The two chains combine to cover 80 percent of the nation's food market share.
As an immediate result, 34,000 mother pigs and 350,000 chickens will be freed from their cages.
What is really exciting abut this announcement, besides that obvious fact that it takes Australia one step closer to a humane, non-violent, ethics-based civilized society, it also shows the power of consumer sentiment to effect change. The announcement came about in no small part because of a campaign by Animals Australia calling for an end to factory farming, calling "it the biggest cause of cruelty to animals in the country." The campaign featured this video called, When Pigs Fly.
Back home, while some business folks complain that their investments in social responsibility might not be paying off quickly enough, they might be missing the way that these things can slowly build to a tipping point.
Article continues at ENN affiliate, Triple Pundit
Pig image via Shutterstock