Plans for a Green Inauguration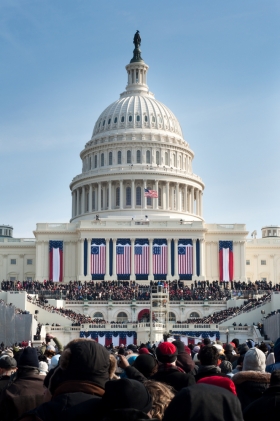 With the US Presidential inauguration ceremonies around the corner (kicking off on Monday, January 21), the nation is getting ready for a week of festivities, balls and galas honoring our newly elected officials. This year's official theme is "Faith in America's Future." Traditionally, inaugurations aren't particularly known for being green, but in an attempt to jump on the eco-friendly bandwagon, sustainable efforts are being made. TriplePundit reports on the "greening" of this year's ceremonies.
Washington, DC is now overrun with visitors in town to witness Barack Obama's second inauguration. With all those people and events, the next few days should be a gold mine for local recyclers. We have had the greenest Super Bowl ever, the most "sustainable" Olympics and even the Oscars awards ceremony claims it has gone green.
If you have not experienced an inauguration, you're in for lots of fun, booze, food, protestors, corporate sponsors and, in addition: Metro trains filled to capacity with people riding rail for the first time; an avalanche of fur coats that will turn you vegan; self-importance so thick you need a machete to slice it; the overhearing of conversations including, "Oh Michelle, she's a friend of mine, too"; and lots of garbage.
This year most of the "greening" efforts focus on the low-hanging fruit, recycling. We are far away from hybrid limousines, FSC-certified wood grandstands and red carpets made out of Interface carpet tiles–though we like that last idea. Not that you can score a ticket to any events–if you're lucky, your U.S. representative gave you tickets so that the U.S. Capitol dome is the size of a gum ball–but in case you don't notice on TV, event organizers are paying more attention to sustainability than in previous inaugurations.
The National Wildlife Federation, which hosts the 2013 Green Inaugural Ball, is a start. Working with its venue, the Newseum, and Wolfgang Puck Catering, the ball's organizing committee goes so far as to say that there will be no need for trash cans at the event. The Newseum will only use compostable serving materials or reusable items such as glass and flatware. Wolfgang Puck Catering's employees will separate frying oil so it is recycled into biofuels; expired light bulbs will be broken down in a Lampinator to separate mercury from glass and metals; and all food scraps will be composted for use by DC residents and urban farms. The inauguration's events throughout the city will also undergo similar efforts.
Continue reading at TriplePundit.
Inauguration image credit: Ryan Rodrick Beiler via Shutterstock.com