Lettuce Turnip the Radish Beet and Rocket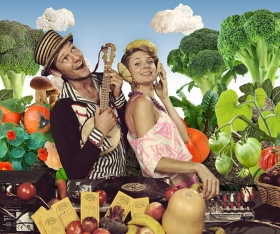 Permaculture is the branch of ecological design, which promotes development of sustainable and self-sufficient natural ecosystems. Focusing on twelve tenets, or design principles, that center on taking care of the earth while setting limits on consumption and redistributing surplus, the movement has yet to gain mainstream scientific acceptance. However, with help from a new album, "Permaculture – A Rhymer's Manual," Formidable Vegetable Sound System hopes to bring attention to permaculture and it's principles through their unique musical stylings.
Globetrotting permaculture troubadour, Charlie Mgee has composed an entire album about sustainability, a topic most artists wouldn't think of touching without sounding too corny or too righteous. But who knew this new genre of edutainment (education and entertainment) would catch on? And who knew songs about permaculture could sound so cool and refreshing?
The new album tracks touch on themes like community, over-consumption, recycling, and water use to name a few. Not only does the album promote sustainability and have a great message that should be heard, but the sound stylings of Charlie Mgee and Formidable Vegetable Sound System are truly distinctive. The sounds are described as an "uplifting new experiment in 'ecological edutainment' mashing together ukulele with speakeasy electroswing-style wonk, climate-change reggae, post-apocalypso and vocabulous ukulele quirk with a decent serving of 'radish beets'."
Hailing from Australia, Mgee's deep vocals remind me of a gritty old school jazz performer, with impressive upbeat instrumentals in between - a sound not frequently heard in today's pop culture.
With tracks titled "No Such Thing as Waste," "Yield," "Get Together," and "The Edge" (which can all be listened to online), the messages of these songs is truly inspiring and hopefully will pave the way for other artists to venture past lyrics about love and heartbreak and focus more about worldly causes.
Formidable Vegetable Sound System has been tearing up the Australian festival circuit and now is making their way to the US in order to promote International Permaculture Day.
After checking out some of their performances online, I can only image the hyped up show they're bound to put on, so check them out at the venues listed below!
May 1: Resilience Hub - Portland, ME.
May 4: Star Theatre - Kittery, ME.
May 5: International Permaculture Day, SunOne Farm, Bethlehem, CT
May 11: Guildhall, Portland, OR
May: 17: Omculture, Seattle, WA
For more information and to listen to some of Formidable Vegetable Sound System's tracks visit the Permaculture Ukulele Project.