Adopting Healthy, Sustainable Diets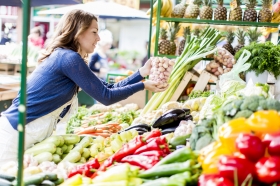 Those who want to eat healthy tend to have a sustainable diet, and those who want to eat sustainably are often drawn to healthier foods. These two diet tracks go hand-in-hand as we are learning that the way we eat not only affects our health, but affects our environment as well.
One of the clearest impacts of our food addiction is the destruction of forested areas for agricultural produce. This puts a heavy toll on our global CO2 output. For example, between 1990 and 2008 Europe imported and consumed about 9 million hectares of newly deforested land, (roughly three times the size of Belgium); and all this despite the fact that we throw away over one-third of the food we produce.
So what is stopping government and business from promoting healthy diets that are both good for our health and the environment? It seems logical that encouraging such an affordable diet would be something that should receive support, especially given that the global population will reach 9 billion by 2050, and a diet increasingly based on resource intensive animal protein (like meat, dairy and fish) is soon bringing us up against planetary limits like freshwater supplies and fertile soils.
LiveWell for LIFE , a three-year project closely examining the relationship between food, health and the environment, has released a milestone report: Adopting Healthy, Sustainable Diets: Key opportunities and barriers. This study has identified some of the most important factors that explain why governments are not supporting sustainable diets, why food companies are discouraged from promoting them and why consumers are slow to adopt them.
The report highlights that policy makers are recognizing the idea of supporting sustainable diets. The most concrete example of this new interest in sustainable diets at a European level can be found within the European Commission's Europe 2020 Strategy for smart, sustainable and inclusive growth.
As part of this strategy a consultation was recently opened, which will provide all stakeholders with the opportunity to make their views known on how we should address the challenges of growing a sustainable food system. This is intended to help frame future policy and needs wide participation from civil society. 
Ultimately the LiveWell Adopting Healthy, Sustainable Diets: Key opportunities and barriers study sees the citizen as the decisive catalyst for change, but without government applying pressure on business this cannot happen alone.
Read more at EurActiv.
See the report at LiveWell.
Market image via Shutterstock.