Record year for rhino poaching in Africa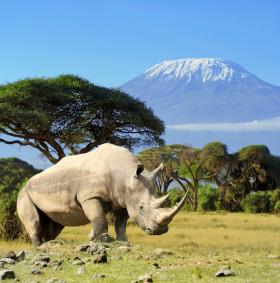 The number of African rhinos poached in 2015 is higher than previously thought with new figures from the International Union for Conservation of Nature (IUCN) showing that a record 1,338 were killed across the continent last year – 33 higher than earlier estimates.

This is the highest level since the current poaching crisis began in 2008 and takes the number of African rhinos killed since then to at least 5,940.

"The extensive poaching for the illegal trade in horn continues to undermine the rhino conservation successes made in Africa over the last two decades," said Mike Knight, Chair of IUCN's African Rhino Specialist Group (AfRSG), which just concluded its biennial meeting.

However, increased law enforcement effort and expenditure in recent years have coincided with a slowing down in the rate of increase of poaching continentally from 2013-2015. Over the last two years, poaching has declined in Kenya and, for the first time since 2008, the number of rhinos poached in the major range state, South Africa, fell slightly last year.

"The decline of rhino poaching rates in Kenya and their stabilization in South Africa shows that concerted conservation efforts based upon strong political will and increased expenditure can work," said Jo Shaw, WWF-SA Rhino Programme Manager. "But the alarming increases in poaching in Namibia and Zimbabwe show that this does not stop the international criminal gangs behind the killing – they simply shift their focus and target rhinos in other countries."

And these countries and their rangers cannot stem the poaching on their own.

"Rangers are risking their lives saving rhinos on a daily basis but their bravery is not enough: countries must also provide them with the best available tools and training," said Shaw. "But it's not just about stopping the poaching, customs officers and police in trafficking and consumer countries need to be just as committed to ending the illegal trade as Africa's rangers."

The continued poaching has impacted on rhino numbers. According to the experts who met recently in South Africa, numbers of the more numerous white rhino appear to have levelled off on the continent, with 2015 numbers provisionally estimated at between 19,682 and 21,077 – representing no statistically significant change from 2012.
Continue reading at WWF Global.
Rhino image via Shutterstock.