Farmer by Farmer, Investor by Investor, Regenerating America's Farmland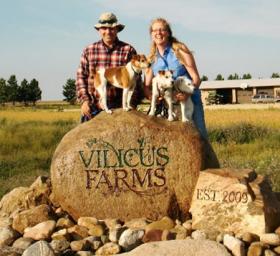 In northern Montana, Doug and Anna Jones-Crabtree restore soil health while growing organic heirloom and specialty grains, pulse and oilseed crops on 4,700 acres. A thousand miles away in Central Minnesota, the Main Street Project sequesters carbon as it transforms 100 acres of bare ground to a permaculture farm alive with hazelnut trees and foraging chickens.
These two farms are dramatically different, but both are part of Iroquois Valley Farms' quickly expanding network of farmers who are growing healthy food and stewarding the land. They and our 40 other farms around the country are proving to investors that the biggest "regenerative" investment opportunity in the world is to move away from the dead soil monoculture toward ecological-driven organic operations and that the solution is supporting organic farming agri-preneurs.
Iroquois Valley Farms starts with the farmers, who choose the land that they need to run profitable farms on. Our company purchases the land and rents it to the farmers (they can buy it from us later if they chose) or we provide financing so that the farmers can hold title. Eighty percent of our farmland investment portfolio is owned farmland; 20 percent is mortgage assets. Our company takes advantage of the appreciation of farmland over the years, plus a steady supply of income from rental and mortgage payments. In a sense, we focus on both growth and income for our investors.
Read more at Green Money Journal
Image: Vilicus Farms (Credit: Green Money Journal)