Making Global Warming Cuts Expensive but Feasible for Power Industry, Study Says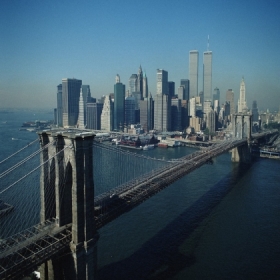 WASHINGTON -- Making big cuts in emissions linked to global warming could trim U.S. economic growth by $400 billion to $1.8 trillion over the next four decades, a new study says.
The study published Monday by a nonprofit research group partially funded by the power industry concludes that halving emissions of carbon dioxide -- the main greenhouse gas linked to global warming -- will require "fundamental" changes in energy production and consumption.
The Electric Power Research Institute said the most cost-effective way to reduce the level of carbon dioxide in the atmosphere is to make many changes at once, including expanding nuclear power, developing renewable technologies and building systems to capture and store carbon dioxide emitted from coal plants. Reducing demand for electricity is also key, the institute said.
Still, the shift to cleaner technologies will raise the price of both electricity and natural gas, whose use in power generation is expected to grow in a carbon-constrained world.
The EPRI cost estimate is based on a 50 percent cut in total U.S. carbon emissions from 2010 levels by 2050. Without such a cut and the shifts in technology it would bring, the Energy Department projects that U.S. carbon emissions will rise from about 6 billion metric tons a year in 2005 to 8 billion metric tons by 2030.
The report calls for more modest cuts in emissions than some proposals currently being considered in Congress. Bigger cuts could well be more expensive.
However, a leading environmental group said the study misses a key point: the economic costs of not doing anything to stop global warming -- which they warn will lead to problems as diverse as flooding damage, refugee crises and less snow at ski resorts.
"We think it will be more expensive to do nothing," David G. Hawkins, director of the climate center at the Natural Resources Defense Council, said. "We think the economy is going to be threatened by unabated global warming."
Over the past year, power industry officials have been gearing up for what many see as an inevitable move to regulation of greenhouse gas emissions. Top executives from Duke Energy Corp., PNM Resources Inc. and American Electric Power Company Inc. have urged lawmakers to give them enough flexibility to cut emissions at an affordable cost.
Revis James, one of the EPRI report's authors, said it would be difficult but possible for the electric power industry to cut back on its share of greenhouse gas emissions, which make up about one-third of total U.S. emissions.
"It's not like hoping for a miracle," James said. "The manned space flight program happened because there was a very strong national consensus that it was important and it needed to be done...I think we are dealing with something here that is similar to that. It's going to take 25 years of concerted effort."
The report also concludes that making cuts in emissions more slowly rather than mandating big cuts right away, is the most cost-effective way to reduce greenhouse gas emissions because doing so gives advanced technologies more time to develop.
EPRI uses 2000 dollars in its calculations, so adjusting for inflation, the economic effects would be far higher.
Earlier this month, Sens. Joe Lieberman, I-Conn., and John Warner, R-Va., outlined a plan to cut U.S. economywide emissions of carbon dioxide and other greenhouse gases to 70 percent of current levels by 2050.
EPRI's researchers envision the power industry cutting greenhouse emissions though a fivefold increase in nuclear power from Energy Department projections, twice as much renewable power, more efficient coal plants, widespread adoption of technology to capture and store carbon emissions from coal plants and the spread of plug-in cars that can send electricity back to the power grid.
In addition, demand growth would be held to 1.1 percent per year, compared with the 1.5 percent annual growth that the Energy Department projects.
Source: Associated Press
Contact Info: