Storm Erin Takes Aim At Texas As Dean Strengthens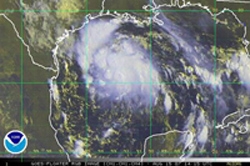 NOAA Image
HOUSTON (Reuters) - Tropical Storm Erin, swirling in the Gulf of Mexico, took aim at the Texas coast on Wednesday while Tropical Storm Dean strengthened in the open Atlantic and was expected to become the season's first hurricane.
Texas officials closed beaches and put emergency crews on standby before Erin's expected landfall on Thursday near the seaside city of Corpus Christi.
"We're out of here. We're outta here real quick," one man said as he prepared to evacuate the Padre Island National Seashore near Corpus, 200 miles southwest of Houston.
Erin, currently with maximum winds of 40 miles per hour (65 kph), was located about 195 miles east of Brownsville, Texas at the U.S.-Mexico border and headed northwest at 13 mph (20 kph), the National Hurricane Center said.
The storm could strengthen before it hits land, forecasters said, but local officials said they were worried mostly about heavy rains and possible flooding. Forecasters said Erin could bring up to 8 inches of rain.
A tropical storm warning was in effect for the Texas coast from Brownsville to San Luis Pass near Galveston. A tropical storm watch for northeastern Mexico had been canceled, the hurricane center said.
The U.S. Minerals Management Service said workers had been evacuated from five natural gas production platforms in the Gulf of Mexico, where about a third of U.S. oil and gas is produced.
No gulf oil production had been shut and most companies said they were either taking no action or just keeping an eye on the storm.
They said they were more concerned about Dean and the possibility that it could enter the Gulf next week as a powerful hurricane.
Dean was located about 910 miles east of the Lesser Antilles, the string of Caribbean islands that stretches from Trinidad in the south to the Virgin Islands in the north, and speeding west-northwest at 22 mph (35 kph).
It had sustained winds near 65 mph (100 kph) and was getting stronger.
"Further strengthening is forecast during the next 24 hours and Dean could become a hurricane later tonight or early Thursday," the hurricane center said.
The center's long-range forecast had Dean crossing the Lesser Antilles near St. Lucia and Martinique on Friday as a Category 1 hurricane on the five-step Saffir-Simpson scale with top winds of 95 mph (153 kph).
Dean was then expected to become a Category 3 hurricane with winds topping 110 mph (177 kph) as it heads through the Caribbean Sea toward Jamaica early next week, possibly strengthening further.
(Additional reporting by Jim Loney in Miami, Jim Forsyth in San Antonio and Erwin Seba in Houston)