Australia's PM offers to bridge climate gap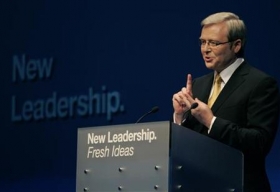 CANBERRA (Reuters) - Australia's new prime minister, Kevin Rudd, has proposed to Chinese Premier Wen Jiabao that Australia act as a bridge between China and the West on the issue of climate change.
He made the offer during a 20-minute telephone conversation in Mandarin after Wen called to congratulate him on his decision to ratify the Kyoto Protocol on greenhouse gas emissions.
Rudd, a former diplomat who speaks fluent Chinese, has made climate change one of his government's priorities, ratifying Kyoto on Monday within hours of being sworn in.
Wen had sought Rudd's cooperation in future climate change talks, the Australian national newspaper reported. A spokeswoman for Rudd confirmed the call to Reuters.
The United States refuses to ratify the Kyoto pact, arguing that it excludes major polluters China and India, whose developing economies are growing rapidly, and that placing emission restrictions on U.S. industry would damage its economy.
Australia's previous conservative government, unseated in the November 24 election, had refused to sign Kyoto for the same reasons.
Meanwhile, Rudd has played down reports that Australia would support a 25 to 40 percent target for cuts in greenhouse emissions by 2020, based on 1990 levels.
Australian newspapers said on Thursday Australian officials had signaled support for the targets during negotiations at the U.N. climate summit in Bali, which Rudd will attend next week.
Rudd has proposed a 60 percent cut in national carbon emissions by 2050, based on 2000 levels, but has said he would wait until next year, after receiving a report on the economic impact of targets, before setting a target for 2020.
Speaking on Thursday after his first cabinet meeting, Rudd said the 25-40 percent target had been proposed by the U.N.'s Intergovernmental Panel on Climate Change earlier in the year, but Australia did not necessarily agree with it.
"States have ... indicated that they do not necessarily accept those targets, nor do they accept those targets as binding targets for themselves. That is also the position of the Australian government," Rudd told reporters.
"The reason for doing it in a methodical way which we've outlined is to ensure that those targets are meaningful environmentally, and responsible economically."
(Reporting by James Grubel; editing by Roger Crabb)