Flash floods in Brisbane, Australia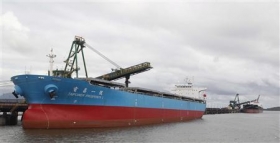 Residents in Australia's third largest city, Brisbane, sandbagged their homes against rising waters on Monday as torrential rain worsened floods that have paralysed the coal industry in the northeast and now threaten tourism.
Prime Minister Julia Gillard said the cost of the floods would not delay a return to budget surplus in 2012-13, but J.P. Morgan predicted the disaster would crimp growth this year and could delay another increase in interest rates.
The worst floods in 50 years have at times covered an area the size of France and Germany combined in Queensland state. Six people have been killed while dozens of towns have been isolated or partially submerged. More monsoon rains are expected all week.
"People need to think about how to get out and if you don't need to travel, stay off the roads," said Police Chief Superintendent Alistair Dawson, referring to some of the smaller towns near Brisbane, Queensland's state capital.
Toowoomba, a major rural city west of Brisbane, was hit by a two-meter-deep wall of mud-filled floodwater which swept two people to their deaths and left others clinging to the tops of vehicles carried along streets by the torrent, police said.
In Brisbane, a city of 2 million, people in low-lying areas were given sandbags and warned the worst of the flooding might not occur until Tuesday or Wednesday.
Photo shows cargo ships being loaded with coal at the coal port in Gladstone, Queensland January 7, 2011. Australia's flood-stricken coal industry may be disrupted for months as reports emerge of key rail and road links being washed away, while some infrastructure may take years to repair, authorities said on Friday. Credit: REUTERS/Daniel Munoz
Article continues: http://www.reuters.com/article/idUSTRE6BU09620110110